If you think customer expectations are high overall in terms of ecommerce and direct-to-customer fulfillment, take a good look at the millennial generation.
Across a number of studies you see a pattern: a keen desire for the most rapid shipping method possible; free, unlimited returns; and a greater willingness to spend a bit more to get it the same day.
Transparency and communication, including real-time delivery tracking and notifications, are also key factors for making millennials happy with the shipping and delivery experience.
Survey Says: We Want It Now
Rod Sides, a vice chairman and U.S. retail and distribution leader for Deloitte, said millennials are setting the definition of what fast delivery means, in an annual survey the consulting firm conducts.
"It always comes back to the millennial mindset that as a group they want what they want, and they want it immediately," said Sides. "They're willing to pay more (for expedited shipping), and see a value in getting orders quicker, understanding it's a tradeoff. Also millennials are not spending as much time looking for a deal as they are looking for instant gratification."
The Deloitte study, which surveyed 5,000 consumers from Sept. 6-20, found that millennials were willing to pay an average of $5.50 to get their order the same day during the holiday season, compared to an average of $3.80 for non-millennials. For next-day delivery, they were willing to pay an average of $3.90 per order, compared to $2.60 for non-millennials.
Millennials also have a different idea about holiday season cutoffs, according to the Deloitte study: 69% of them said they believed they could order something after Dec. 17 and still get free shipping, compared to 61% for all other consumers.
In other areas, Deloitte found millennials are more willing to take advantage of free shipping and discounts on expedited shipping.
Sides said it remains to be seen what impact there will be on ecommerce – especially among millennial shoppers – for retailers that charge customers making in-store returns of online purchases, to defray some of the processing and shipping costs.
"It could curb online purchases in certain categories," he said. "It will be interesting to see if millennials are willing to drive that behavior, when you have stores starting to charge for online returns. Certainly consumers expect the ability to return things purchased online for free."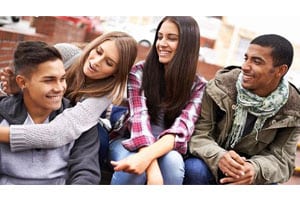 Millennials, it seems, also favor having more fulfillment options offered to them. According to the 2016 Pulse of the Online Shopper Study from UPS and comScore, 28% of respondents said they reroute deliveries weekly. Of those, 41% were millennials, 16% non-millennials.
A new study from courier and same-day delivery provider Dropoff, in partnership with market research firm Kickstand, reflected the desire for faster delivery. It found that 56% of millennials expect same-day delivery, compared to 32% of non-millennials. A higher number – 64% – said they were more likely to make a purchase if there was a same-day option, compared to 40% of non-millennials.
"We see across the board increasing demand over the last couple years for same-day delivery, but particularly for millennials," said Sean Spector, CEO of Dropoff. "And businesses that don't figure out how to do this will struggle. We've seen it across multiple verticals, including healthcare, business services, brick-and-mortar retail, ecommerce and food and grocery."
Other things that matter to millennials, Spector said, were quality of the delivery experience, including professionalism of the drivers, communication and real-time tracking – including the ability to contact the delivery service about their arrival time. "These things are not unique, just more prevalent among millennials," he said. "They're the instant gratification generation, expecting it at a much higher rate than someone older."
Moosejaw: Millennials Use the Power of Social Media
Eoin Comerford, CEO at outdoor gear seller Moosejaw Mountaineering, a company popular with millennial shoppers, said they definitely have higher expectations when it comes to shipping service, especially speed. In a recent survey of more than 23,000 customers, the company found 39% of those aged 18-29 rated its delivery times "so fast" vs. an average of 58% across all customers.
"They definitely want it free," Comerford said. "The level of speed beyond that is a bonus, provided it's within 3-5 days." Moosejaw charges between $5.95 for 6-10 day shipping and $29.95 for one-day shipping; there is no charge for 6-10 day shipping for orders over $49 or Moosejaw items over $12.
Asked about how forgiving millennials could be when there were issues with order fulfillment, Comerford yes – with a caveat.
"I think millennials can be very forgiving if they like you as a brand and you have connected with them on a more personal level," he said. "For example, in the same survey our Net Promoter Score for those aged 18-29 was 65.5% vs. 61.5% for those over 40. On the other hand, if you're only about price and convenience, then you'd better deliver."
Comerford also said millennials were "definitely more likely" to share a bad shipping experience in social media, compared to other demographic groups. "They know the power of social and are not afraid to use it," he said.
BaubleBar: Monitor Millennial Feedback, Address Concerns
Nina Alexander-Hurst, vice president of customer experience at BaubleBar Inc., said the company, whose target audience is women aged 20-40, has always provided free standard shipping and prepaid returns on all orders, realizing it was important to its customers. It does charge from $15 to $35 for expedited orders (third day to overnight).
"People definitely want fast, but free is also very important," Alexander-Hurst said. "There are a lot of sites out there setting the expectation that when you order online you should get it quickly and not have to pay. We try to find the balance. The last thing we want is to have them abandon an order based on a shipping charge – we want shopping with us to be a fun, guilt-free experience from start to finish. As shoppers ourselves, we realize that shipping charges can be a gating factor."
Alexander-Hurst said retailers are being challenged to find new ways to meet these high demands, especially from millennial shoppers but across the board as well, in the age of conveniences like Amazon Prime Now and Uber Eats.
"There are so many delivery apps being created, and retailers need to try and keep up with customer expectations," she said. "It's not always easy to implement, but we're always testing new ways to get products to our customer. Obviously the cost of shipping is not insignificant, so it's necessary need to balance what the customer wants with the bottom line."
As far as how shipping and delivery complaints, Alexander-Hurst said its millennial customers are not shy about sharing their experience on Facebook, Twitter and Instagram. Facebook Messenger has become an important feedback and constant channel for customers as it feels like texting to them, she added.
"We do see lots of feedback on social, but what's great is that it tends to be positive," she said. "The negative feedback often happens when it's something out of our control, like a snowstorm in the Northeast impacting transit times, but a west coast customer may not realize it could delay their package. Usually our customers contact us directly about those situations vs. putting it on Facebook or Twitter."
BaubleBar also closely monitors customer feedback and complaints to determine if the issues are one-off or impacting the larger customer base. Members of Alexander-Hurst's customer experience team, known as SWAT (Service With Accessorizing Talent), are trained to problem-solve their way through these situations.
"We look at order history, location and social profiles when deciding whether or not to act on feedback," Alexander-Hurst said. "Our SWAT team will determine if an issue is impacting one customer or many, and from there determine how to address it."
REI: A Seamless Shipping and Delivery Experience Matters
"I don't know if millennials are less forgiving (of shipping or fulfillment errors), it's just matter of what is their forum for airing their grievances," said Matt Bergerson, manager of network fulfillment for REI, another outdoor clothing and gear company popular with millennials. "My parents, if they were highly dissatisfied with the experience, might write a letter to the Better Business Bureau. For the people of my generation, it's posting a comment on Facebook. It's not necessarily unique to millennials as much as a comfort level with the vehicle to share it with the world."
Bergerson said he really doesn't see a demographic profile by fulfillment type. Where the differences do show, he added, was in terms of millennials and their expectations for a seamless shopping experience overall.
"If they began a purchase in one channel, they expect you to have the visibility that allows you to service them in another," he said. "They want to take out their wallet once, give you the information, and you as the retailer should have all their information available across touchpoints."
Mike O'Brien is Senior Editor of Multichannel Merchant