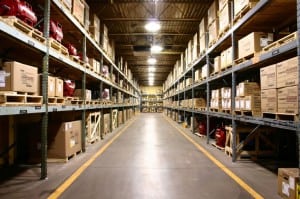 A new report from the Council of Supply Chain Management Professionals (CSCMP) found that issues around both the tightening of delivery and warehouse capacity, fueled by an improving economy, as well as a chronic trucker shortage, continue to impact supply chain costs, with retail being one of the hardest hit sectors.
CSCMP's annual State of Logistics Report, done in conjunction with Penske, found that the cost of warehousing rose 4.4% in 2014 as vacancy rates fell, with growing inventory levels filling all available capacity. According to CSCMP, the national warehouse vacancy rate dropped 2.7% in 2014 to 7%.
The report also found that both inventory carrying costs (up 2.1%) and transportation costs (up 3.6%) increased in 2014, the latter driven by stronger shipment volumes.
According to report author Rosalyn Wilson, a senior business analyst with Parsons Corp., same-day delivery models and the expansion of ecommerce are fundamentally reshaping warehousing needs and expanding the penetration of warehouse management software.
"We've been talking about driver shortages for the past five to 10 years," said Rick Blasgen, president and CEO of CSCMP. "As I make presentations I ask, 'how many of you have kids that want to grow up to be trucker drivers?' The position needs to become more professional in our economy. The shortage is forcing suppliers and retailers to do different things to shore up capacity."
Blasgen said CSCMP sees transportation continuing to be the largest component of logistics costs. "As freight volumes go up and capacity continues to be an issue, retailers will have to pay more to move their stuff," he said.
Jonathan Gold, vice president of supply chain and customs policy for the National Retail Federation, said the report's findings highlight issues that been of concern for some time, especially related to the scarcity of trucking and warehouse capacity. "We continue to hear about the driver shortage, in addition to regulatory issues around driver hours of service and other impediments, all of which are leading to increased costs," Gold said.
Concerning the warehouse capacity issue, Gold said the NRF is hearing from its membership about how the explosion in omnichannel means figuring out new operational models to get products to consumers how, when and where they want them. "A lot of companies are trying to figure out the best model for that, and we're seeing a lot of growing pains as a result," he said.
The use of third-party logistics providers continues to grow, according to the CSCMP report, increasing 5.8% overall, with the domestic transportation management component rising 20.5%. Since 2005, the only year that 3PL revenues didn't increase was 2009, due to the recession, Blasgen said.
"A 3PL has variable space, which opens up access when my (inventory) level is down," he said. "They can spread their fixed and variable costs across multiple clients or customers using their distribution facilities. It takes advantage of the ebb and flow of different inventory levels. Also, distribution is their core competency, with technology investments that allow them to do it better than you can."
Blasgen said retailers can help their cause by working closer with carrier and 3PL partners on sharing expected volume forecasts. "That way they're in a better position to have access to inventory when they want and in the quantity they want, with a better degree of certainty about securing transportation that's not an emergency but planned, which is cheaper than spot buying."
According to the CSCMP report, demand for spot market truck capacity has remained high.
"The sharing of information and forecasting is critical to the successful partnerships with the carriers and partners," Gold said. "This helps planning on both ends to ensure as seamless a supply chain as possible."
Gold also said the NRF is hoping Congress passes a long-term transportation bill that would address some of the issues around freight movement throughout the supply chain. Funding for the current legislation expires at the end of July, and a bipartisan bill calling for $90 billion in spending over six years – including $11 billion to bridge to the end of this year – is being debated in the Senate.
"They're looking at a national freight plan that would address some of those issues," Gold said. "Some are operational problems Congress can't address, but they can put resources toward infrastructure that could help, including last-mile connectors between ports and highways, and intermodal facilities to alleviate some of the capacity issues."