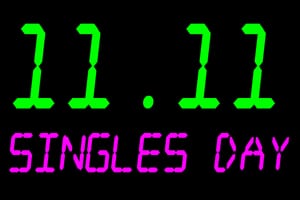 Multichannel Merchant's MCM Outlook 2016 survey results show that just one out of six (16.7%) of U.S.-based merchants are doing cross-border selling into China.
While that percent may seem to be small based solely on Tmall Global and CBN Data's "2015 China Cross-Border Consumption Report" to highlight Tmall's growth, some U.S.-based merchantsmay have been scared off in 2015 by reports of a poor Chinese economy.
Singles Day in China – November 11 – was an eye-opener for the naysayers. Alibaba announced that USD $14.3 billion of gross merchandise volume – a 60% increase over its Single's Day 2014 total of $9.3 Billion – was settled through Alipay on Alibaba's retail marketplaces, making the 2015 11.11 Global Shopping Festival the largest shopping day in history.
And while chief rival JD.com did not mention dollar signs, JD.com also announced record-breaking one-day results from its Singles Day sale. JD.com saw its number of orders increase by 130%, and an increase in GMV of more than 140%, compared to last year.
Here's a look at 6 U.S.-based merchants who took advantage of Singles Day 2015 in China, and totally nailed it.
Estée Lauder Co.
Sales China rose 9% with ecommerce sales growing nearly 80%, thanks in part to the success of Singles' Day, when Estée Lauder Co.'s sales more than doubled vs. the prior year. On Singles' Day, sales on its five flagship sites on Tmall more than doubled, led by Estée Lauder and Clinique, Estée Lauder Co. President and CEO Fabrizio Freda said during the company's second quarter earnings call.
Under Armour
This business continues to be on fire, not only in the United States but also around the world. In China, on Singles Day this past November, Under Armour had its first $1 million revenue day online. One thing that helped Under Armour's brand name grow in China was a live tour with NBA star Stephen Curry to promote the launch of Curry Two in China six weeks ahead of its U.S. launch, said CEO Kevin Plank during Under Armour's fourth-quarter earnings call.
The Hershey's Company
While small, Hershey president and CEO John Bilbrey said suring his company's fourth-quarter earnings call that its ecommerce business in China is a bright spot. In the fourth quarter, Hershey's ecommerce business grew more that 75%, driven by solid China singles day performance. For the year, Bilbrey said its China chocolate ecommerce retail takeaway outpaced the category.
Nike
Nike Brand president Trevor Edwards said Greater China had an amazing second quarter, with revenue growth of 28%. Nike also saw a continued strong growth from its own direct to customer business, which Edwards said was up 51% in the quarter, fueled in part by Nike's most successful Singles Day event ever.
Costco Wholesale
Costco offers just over 200 SKUs on Tmall, with a heavy emphasis on Kirkland Signature items. During the company's first-quarter earnings call, Costco CFO Richard Galante said China is going well, and theat they are certainly building some recognition for the Costco Kirkland Signature brand name. Costco had a very successful Singles' Day on Tmall, receiving over 300,000 orders.
Abercrombie & Fitch
With regard to ecommerce, in general, Abercrombie & Fitch CEO Jonathan Ramsden said the company continues to see strong growth in China, where it once again did very well on Singles' Day, generating nearly $2 million in sales. A year into its localization efforts there, Ramsden said during the company's third-quarter earnings call that the company is pleased with the return on its investments driven by both increased traffic and conversion. Looking forward, Abercrombie & Fitch will add mobile enhancements in China in 2016 reflecting the already strong mobile penetration in the market.
Tim Parry is Multichannel Merchant's Managing Editor, and the lead programmer for Growing Global.