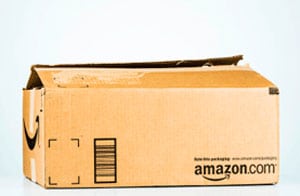 Amazon put out a press release on Dec. 26 to announce a record-setting holiday season for Amazon Prime, the annual membership program offering unlimited free two-day shipping on millions of items.
The problem is, Amazon's announcement came two days after UPS announcements delays in deliveries that meant Amazon shipments scheduled to be under Christmas trees would not arrive on time.
In a Dec. 16 press release designed to spark new membership, Amazon said Prime members can order gifts as late as midnight EST on Sunday, Dec. 22, for free delivery before Christmas.
Amazon said in the Dec. 26 press release that Prime was so popular this holiday, that Amazon limited new Prime membership signups during peak periods to ensure service to current members was not impacted by the surge in new membership. However, more than one million customers around the world became new Prime members in the third week of December.
According to the Dec. 26 release, the last Prime one-say shipping order that was delivered in time for Christmas was placed on Dec. 23 at 10:22 p.m. PST and shipped to Carlsbad, CA. The item was a Beautyrest Cotton Top Mattress Pad. However, the press release does not say whether that delivery arrived on time for Christmas.
"Amazon Prime membership continues to grow, and we now have tens of millions of members worldwide. They benefit from all-you-can-eat free two-day shipping on millions of eligible items and our members have a voracious appetite," said Jeff Bezos, founder and CEO of Amazon.com, in the Dec. 26 press release. "We are extremely grateful to our customers around the world and wish everyone the very best for the coming year."
According to published reports, Amazon sent apology emails to those customers who did not receive packages on time. The email allegedly included a $20 credit offer, and if the customer paid for expedited shipping, the customer would also receive a shipping refund.
Multichannel Merchant requested a copy of the email from Amazon, but the request was denied. Amazon spokesman Erik Fairleigh wrote in an email that "For privacy reasons we have a longstanding policy of not publicly releasing emails to customers."
Fairleigh did say the following statement could be attributed to him: "Amazon fulfillment centers processed and tendered customer orders to delivery carriers on time for holiday delivery. We are reviewing the performance of the delivery carriers."
Amazon has been trying to lead the industry with same-day delivery, and last year launched its own parcel service in the U.K. And in a Cyber Weekend interview with 60 Minutes, Bezos introduced the world to Amazon Prime Air, it's own delivery-by-drones service for customers within 10 miles of one of its fulfillment centers.
According to the Dec. 26 press release, the last Local Express Delivery order that was delivered in time for Christmas went to Everett, WA. It was a Plantronics Audio 655 USB Multimedia Headset in "Frustration Free Packaging" ordered at 12:26 p.m. PST on Christmas Eve and delivered at 3:56 p.m. PST that same day.