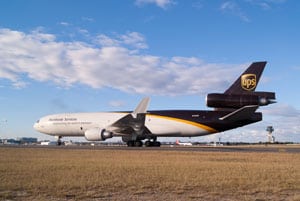 The Independent Pilots Association (IPA), representing more than 2,500 UPS pilots, voted nearly unanimously today in favor of a strike to settle a five-year-long negotiation, a move UPS saw as a standard tactic that would not result in any stoppage leading up to the busy holiday season.
Meanwhile, FedEx earlier this week reached a six-year contract agreement with the Air Line Pilots Association (ALPA), putting more pressure on UPS to get a deal done.
The IPA vote in effect authorizes the union's executive committee to ask the National Mediation Board to suspend negotiations with UPS, a precursor to a full strike. The Teamsters, representing UPS drivers and distribution center workers, has said it would honor the pilots' action by walking off the job if a strike happened. But UPS and industry observers see a work stoppage as an unlikely outcome.
"UPS continues to negotiate in good faith for a contract that is good for our employees, our customers and our company," said Mike Mangeot, UPS Airlines's public relations manager. "Negotiations continue to move forward, with sessions currently scheduled for November and December."
Mangeot added the the IPA's action won't affect UPS's operations and was not unexpected.
"A job action at this point in negotiations would be illegal under U.S. labor law," he said. "Authorization votes are symbolic, scripted events common to airline negotiations, and the results are predictable shows of solidarity."
Mangeot said UPS captains are guaranteed a minimum of $255,128 per year, typically earning about $35,000 more. Under the expiring contract, FedEx captains earn a guaranteed $230,379. The average pay for all UPS pilots, including captains and first officers, is $238,000.