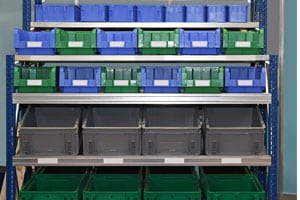 Direct-to-customer retailers in 2016 are constantly being asked to address the needs of individual shoppers. They're seeing double-digit growth in a business that requires them to fulfill orders of low line numbers, often just a single item, compared to bulk orders for store fulfillment.
Not only do they have to support this tremendous ecommerce growth, but there are also issues of seasonality to grapple with. The period from Black Friday through Christmas can involve five to 20 times the normal order volume. All of a sudden, what had been done in a week is happening in two to three days. This creates a tremendous need for temporary hiring of operations personnel, and an all-hands-on-deck footing. While the temps are trained as rigorously as possible, picking and order accuracy rates are inevitably going to suffer. And mis-picks inevitably lead to higher return rates, driving costs up and customer satisfaction down.
With ecommerce and DTC operations dealing with shrinking order sizes yet higher order volume and high service levels, historically successful but rudimentary equipment and processes can reach the stress point in terms of space, systems, people and product.
For a growing number of merchant companies, automated systems have become a way to address the issue of increased throughput, order accuracy and returns. In addition to accuracy, often the biggest driver of automation decisions, the ability to achieve higher throughput per headcount, increasing efficiency while keeping down labor costs, is also paramount.
There are a wide array of choices, everything from RF scanners, ASRS, conveyors and pick-to-light to voice-directed systems, tilt trays, fully automated goods-to-person and robotics. But what level of automation is right? A lot depends on your business goals and what you're trying to achieve, how optimized your current operations are, what you can afford and ROI requirements.
Conducting a Current State Assessment
Companies need to determine at what level of order volume they should start to consider order fulfillment automation. Curt Barry, principal of DTC operations consultancy F. Curtis Barry and Co., said order levels of 5,000 to 10,000 per day could be a sufficient threshold to cost-justify a move into automated solutions.
First, Barry said, companies need to focus on exhausting all non-automated possibilities for improving existing operations. Starting with a focus on automated solutions could lead to over-building or unnecessary investments. Further, he said, it's a mistake to try to overlay automation on a poorly functioning set of processes and systems.
Barry's advice is to go through all aspects of your current layout, design and systems, and make sure you've captured all the potential savings. Since picking and packing usually account for more than 50% of labor costs, identify all non-automated ways to streamline the labor involved in those operations.
Some other tips from Barry:
Conduct an objective analysis of operational pain points and costs. Take a methodical approach to defining all opportunities and potential solutions, and involve warehouse staff. Frontline personnel know the issues and can often contribute valuable ideas.
Get a thorough understanding of existing productivity and costs by department, unit and line, as well as per order and per package shipped. Be selective and methodical about identifying and assessing areas and applications most likely to yield cost-justifiable benefits.
Assess every conceivable area where automation might help will simply result in confusion, paralysis and a lot of wasted time and effort. Focus on assessing just those areas that are most likely to deliver business benefits
For each area, estimate the savings in labor reduction, the ability to track inventory through the center, reduction in errors and throughput of customer orders, using an 18-month payback as the guideline. This will provide a solid read on the level of automation that can be cost-justified based on your operation and cost structure.
Make sure the solution you're considering is sufficiently flexible and scalable to accommodate changes like product assortment or increased volume that would affect layout needs or the fulfillment model.
Chris Groseclose, general manager of Crutchfield Corp., agreed with Barry on the importance of employee feedback in the automation decision process. For instance, he said, his company's frontline workers were frustrated with printing devices for shipping labels that worked most of the time, but when they failed, the result was painful. Also, he said, workers became sick of manual processes like pushing carts around the warehouse, which led to a decision to implement a new conveyor system.
If you're running out of floor space or know you'll be there soon, automating your storage and picking process can greatly improve storage capacity and allow room for growth. Systems like a vertical lift module or another goods-to-person system can improve storage capacity by 40%–60% or more. You also need to weigh the cost of investment in your overall facility vs. automation equipment. Typically, the time, effort and cost of retrofitting your building far outweigh the cost of an order fulfillment automation system.
Mike O'Brien is Senior Editor of Multichannel Merchant