FedEx Express package and freight standard list rates for U.S., U.S. export and U.S. import services, and FedEx Ground standard list rates will increase an average of 5.9% as of Jan. 1, 2024. The Sept. 7 release of the General Rate Increase (GRI) marks the earliest announcement in company history.
While it's impossible to analyze every 2024 change in pricing, below are some important takeaways for all shippers to note and assess:
A Rare Decrease in GRI
For the past two plus decades, the annual GRI generally remained the same or grew. Typically, both FedEx and UPS announced the same rate increase each year around the same time. Prior to Covid-19, both carriers announced modest 3.9% to 4.9% increases. In 2022, we saw a record breaking 5.9% increase followed in 2023 by yet another record breaking 6.9%. Now FedEx announced a rare deceleration to 5.9%.
Earliest Announcement Ever
The FedEx GRI announcement follows a trend where both carriers declare rate increases earlier than the prior year. This not only allows shippers ample time to create 2024 budgets with knowledge, but also the ability to negotiate those increases down.
Further, one of the things that makes this year's announcement unique is that strategically FedEx put pressure on UPS to match as it comes out of a costly negotiation with the Teamsters union. This shot across the bow seems to have worked as UPS responded with its own 5.9% rate increase a week later.
FedEx Rate Increases
They're similar across most weight breaks, but longer zone shippers will see higher increases.
As illustrated by the following charts, all services will see rate increases across all weight breaks, and most all above the 5.9% target line.
With the exception of Two-Day AM, FedEx raised rates above 5.9% for all shipments to zones 5-8. Conversely, most services see a smaller increase for zones 2-4. FedEx may be telegraphing one of two things:
Shippers with extended zones will continue to pay more year over year.
It may be a direct acknowledgement of more competition from regional carriers for the shorter haul shipments.

The trend continues from previous years where FedEx illustrates a clear preference for packages 10 lbs. and under, which see a smaller rate increase than heavier ones. Is the regional carrier impact at play here again? Yes, regional carriers tend to compete at the lower weight breaks.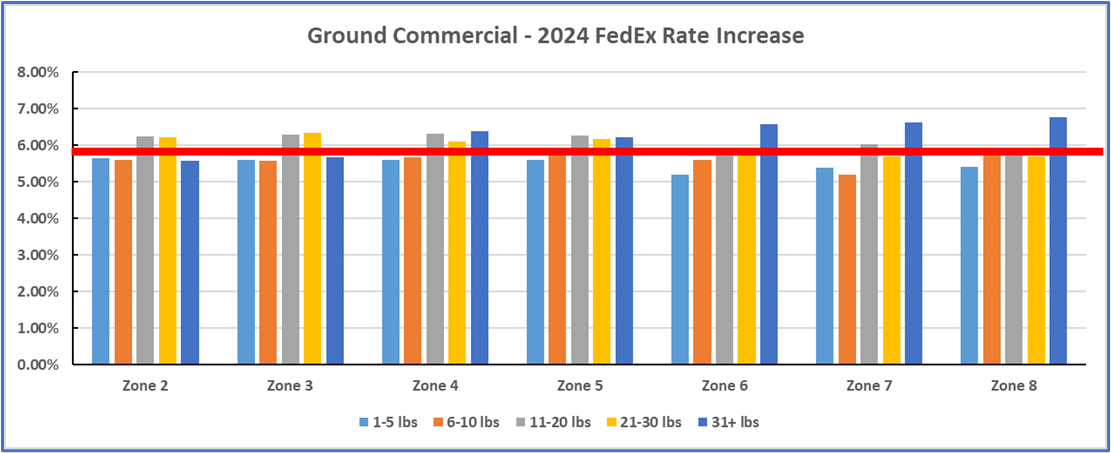 Don't Forget the Impact of Minimum Charge Increases
For shippers with existing discounts, the minimum charge or floor price operates hand in hand with the rate increase. The floor price gives additional protection to FedEx from any discounts it has already conceded. For example, even if you have a 100% discount, you would pay $10.10 for a ground shipment in 2023, or $10.70 in 2024, without negotiating minimum concessions. Yearly minimum charge increases can have a dramatic impact on your shipping costs.
In the next chart, you can clearly see FedEx is more aggressive on Priority Overnight and Standard Overnight services, with increases ranging from 1-2 points higher than the GRI. Because FedEx is one of only two national carriers, these are the services that distinguish them from the competition and thus have rates that can accelerate at higher clips. Meanwhile, Ground and Two-Day services fall in line with the GRI.

Surcharges Still Rising Higher Than GRI
Most read the headlines, or the email from their carrier rep, and think all their rates are increasing at 5.9%. If you are not careful, you can blow your parcel budgets with this thinking because the GRI does not limit surcharges to the 5.9% increase. Again, this year, most common surcharges will increase significantly more than 5.9% and, depending on your specific profile, may be extremely detrimental to your parcel pricing. Surcharges make up between 20% and 40% of a parcel shipper's annual spend. So, it's critical you understand the impact of these increases.
Of note, shippers of large packages will once again be severely impacted by the 2024 increase. Additional Handling surcharges and Oversize surcharges are increasing between 18% and 21%. This table does not illustrate all surcharges but does highlight the most commonly charged additional fees.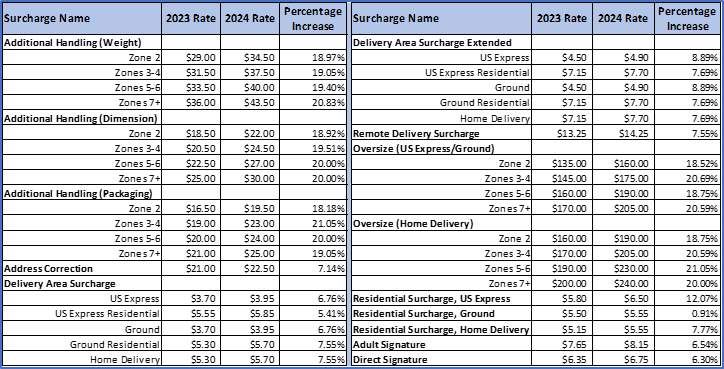 Peak Surcharges Called Demand Surcharges, Will Increase
A year after UPS made the name change, FedEx now refers to Peak Season Surcharges as Demand Surcharges. These fees will increase and now can be charged throughout the year. As noted in the announcement, "We again anticipate the surge in residential volume to carry over into the New Year." Please refer to FedEx's website for updates on the changing fees: https://www.fedex.com/en-us/shipping/rate-changes/demand-surcharges.html
It should be noted that FedEx has not yet announced its GRI for Ground Economy.
What Can Shippers Do?
Know your data and your specific shipping profile. That is the only way to fully analyze how these increases will impact you.
Engage multiple carriers. Regional carriers are becoming increasingly viable for almost all shippers and often offer extremely competitive rates. It's been a year since OnTrac and Lasership merged, offering coverage to 80% of the population. GLS and others continue their expansion. Amazon announced earlier this year that Amazon Shipping is now a service provider and has offered services on a case-by-case basis where there is a mutual fit, with plans on continuous expansion in 2024 and beyond.
Negotiate! With large increases and introductions of new charges, the carriers are opening the door for you to lobby them for relief.
Summary
While FedEx's GRI is decreasing from 6.9% to 5.9%, shippers should still anticipate a double-digit price increase after factoring in all surcharge increases. The slowing of the annual increase can be viewed as a small win for shippers. However, there is never a wrong time to reach out to your carrier to discuss mitigation tactics.
The key is to make sure you have a complete understanding of the impact of annual increases. Whether you have an in-house expert or partner with a consultancy, these increases can't be ignored. Your budget is at stake, and you owe your organization the chance to have an informed negotiation with your carrier.
Paul Yaussy is a Senior Professional Services Consultant for Shipware