If you consider the entire month of November the holiday season, then (as a customer) I've had three instances of omnichannel fails this holiday season. And all three fails were at the brick and mortar level.
Here's the quick rundown:
Walmart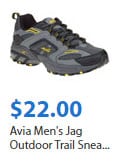 The outdoor trail shoe I wanted was in-stock in store, and I decided I'd rather go to the store on a Sunday morning rather than buy online, pick-up in store. The price on Walmart.com was $22, the price on the shelf (and as I scanned at a price check kiosk) was $29.78.
I asked the cashier if they honor the Walmart.com price and was told, flat out, no, because Walmart.com is different from Walmart.
So I went to the customer service desk and received a half-hearted apology and a "we just started the price-match policy on Friday and I guess no one told [the cashier]."
Best Buy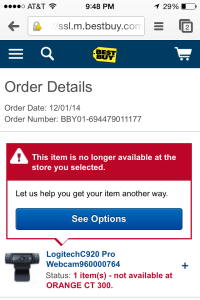 They took a beating over Cyber Weekend because of some website outages and crashes, and I'd like to chalk my Cyber Monday in-store pickup issue to that. But it was deeper than that.
Multichannel Merchant needed a new webcam and we needed it ASAP. My confirmation email stated I'd receive another email to confirm pickup within 45 minutes. An hour and a half later, I still had no pickup instructions, and I had a ton of errands to run.
So when I got to the store an hour after that, I walked into a chaos. The customer service/in-store pickup line was about 10 customers deep, and the store appeared to be understaffed. I found the camera in the store and went to the register. The one register that was open, out of 13 in the store.
And the kid at Register 1 was actually ringing out people simultaneously on two registers, something I'd never seen before.
A few hours later, I received an email that the item I'd ordered to pick up in store was out of stock. I highly doubt that in the hour after I left and before the store closed, someone came and bought the other three webcams that were on the rack.
Sears
You can read more about this incident here. I went back to the store to have the security tag removed and was told, "Sometimes we forget, I'll remove this for you."
So why is it that omnichannel fail at the brick and mortar level? Because omnichannel is more than just systems and technology: It also incorporates the human element. Customer service at the store level is an important part of the omnichannel experience that cannot and should not be overlooked.
Communication breakdown
Who is passing brand messages down to store-level employees? In my Walmart example, there's a good chance the cashier was off Friday (the day Walmart announced its price-matching strategy) and Saturday, punched in and received no communication from a store supervisor.
This employee was a cashier, who was counting her drawer and starting her shift as I'd approached her with the question. Why didn't the cash office supervisor inform the cashier? Could she have been given a memo along with her cash drawer? Was there a store rally to communicate the policy change?
Store staffing
Even if my Best Buy example was fueled in part by ecommerce systems issues, the store was horribly understaffed. It seems that retailers would rather understaff their stores, in an effort to keep costs down, and alienate unhappy customers rather than overstaff at peak times and provide solid customer service.
Cyber Monday may be an ecommerce-driven holiday. But when you are an ecommerce giant like Best Buy, and you are a pioneer in in-store pickup, you need to allocate more in-store man hours on those peak days.