Started by Billy and Julie Carmen in 1999, Wizard Industries manufactures Wizard brand metal detection tools, security wands, bifocal safety glasses, disaster restraint products, specialty tools, and health and wellness products. The company began with its first product, the Little Wizard Woodworking Metal Detector.
"We founded Wizard Industries because of the challenge of starting your own business," said Billy Carmen. "Also, we knew we wanted to work for ourselves. It was a lifestyle choice, not just a way to make money. Owning our own business gives us freedom and time to do things outside of work."
Before online sales had taken off, Billy saw an opportunity to help other companies by developing his own product exposure and penetration technology through Wizard Distribution. Since 2001 it has fulfilled Wizard's own products and those of hundreds of other small ecommerce brands. This means Wizard Industries maintains a large inventory of rotating merchandise in a wide variety of shapes and sizes that need to be shipped to many different locations, creating a complex shipping challenge.
At first, Wizard Industries processed all shipments by hand. But as business took off, the number of shipments increased rapidly to roughly 30 to 40 packages per day and over 1,000 per month. At one point, Billy had six employees helping him with order processing and shipping, and knew he needed to streamline his operations.
Wizard switched to a proprietary software system that let it individually access negotiated carrier rates and bulk print labels, but this did little to help with the workflow of processing marketplace orders as the company started selling via Amazon and Shopify. He still had to spend time actively managing his shipping process.
"We felt bogged down by the shipping process, tied to our office and we were losing the feeling of freedom we loved about being our own bosses," Billy said.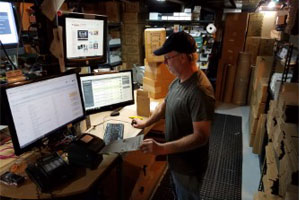 Wizard Industries also needed to manage its shipping costs. In the last few years, this had become especially challenging, with unpredictable shipping rates and surcharges and Amazon setting high expectations for shoppers by offering free shipping for Prime members.
"It's very important to manage shipping costs and we tried hard to offer low rates, while not losing money on each shipment," Billy said. "We often ended up shipping all our packages through one carrier service to save time but we were probably paying up to 40% more than necessary. Getting negotiated carrier discounts and printing our own labels helped but we didn't have the ability to truly rate shop and get the best price for each package."
Billy signed up for a free demo of ShipRush to process his first batch of orders, and took off from there. Using ShipRush, Wizard automatically receives customer orders from its own marketplace, Amazon, and Shopify in one dashboard. ShipRush manages basic order, shipping, destination and tracking information for every customer.
ShipRush's rate shopping dashboard takes all the populated information into account and lets Wizard Industries rate shop, including all delivery time options, on a single screen for each package. It has improved Wizard Industries' fulfillment workflow and reduced its costs.
"Prior to using ShipRush, we had no effective way to rate shop," Billy said. "Now we can offer low-cost shipping and still make a profit."
Because ShipRush offers easy access to shipped customer information, the company tracks, searches and accesses orders for customer service or returns.
Using ShipRush has allowed Wizard Industries to reduce its fulfillment staff from six employees to two. "It allows us to have the business we always wanted while keeping it compact and portable so we don't feel tied down," Billy said. "With ShipRush we can even process orders remotely."