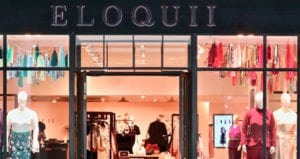 Walmart announced the acquisition of plus-sized fashion retailer Eloquii, joining a long list of hot brands and marketplaces that have been acquired by the world's largest retailer, including Jet.com, Bonobos and Modcloth.
While terms of the deal were not disclosed, CNBC reported that it was valued at $100 million. Eloquii CEO Mariah Chase and her management team will remain with the company.
Eloquii was once owned by The Limited in late 2011, before it was shut down less than a year later. The current owners purchased the assets in 2013 and relaunched the brand online in 2014.
The company has opened five physical stores. In March Eloquii struck a partnership with Reese Witherspoon's Draper James apparel company, selling plus-size clothing online and in stores for both companies.
In 2016, Walmart acquired Jet.com for $300 million and since then has acquired brands like Moosejaw, Shoebuy and Hayneedle, in addition to those listed above.
"What makes a digital brand great is how it converts a pain point in the market into a source of delight for the customer," said Andy Dunn, Senior Vice President of Digital Consumer Brands for Walmart U.S. Ecommerce in a press release.
Jonathan Smalley, CEO and founder of Yaguara, a growth management platform for ecommerce, said the Eloquii acquisition is following Walmart's strategy of bringing on vertically integrated, digitally native brands.
"This gives them yet another source for end-to-end customer data, and on a whole different base than past acquisitions like Bonobos, MooseJaw or Modcloth," Smalley said. "It's a niche brand with a cult following where they have direct contact. They can now test products and marketing with a very specific audience and own that data."
He added Eloquii will help Walmart compete with the likes of Amazon and Stitchfix "without having to build their own brand."