In a move designed to save on shipping costs while offering flexibility to customers, Walmart will begin offering discounts when shoppers opt to pick up an online order in store.
The program, Pickup Discount, will initially be available on 10,000 items when it launches April 19, then expand to more than 1 million items by the end of June. Excluded from the discounting are items sold on Walmart's third-party marketplace.
"We're creating price transparency to empower customers to shop smarter and choose what's best for them," said Marc Lore, President and CEO of Walmart U.S. Ecommerce, in a blog post announcing the move. "Now they can either pick up and save even more money, or ship two-day for free to home, without paying for a membership."
Lore said Walmart will tap Jet.com's "smart cart" technology which delivers savings by giving customers options at checkout. Pickup Discount will leverage Walmart's fleet of more than 6,700 trucks to ship orders to its 4,700 stores for pickup, eliminating the substantial last-mile costs and passing some of the savings along.
At checkout, Walmart shoppers can opt for a store pickup and see the savings. For instance, someone buying a Vizio HDTV listed at $1,698 will save $50 by choosing store pickup.
Can this help Walmart gain ground on Amazon and its Prime juggernaut? Time will tell. The company is betting that whatever is lost in revenue from discounted items will be more than made up for in supply chain efficiency. It's also wagering that customers will respond positively to the buy online, pickup in store (BOPIS) model, which many retailers are looking to as a way to help them wring profitability out of costly omnichannel fulfillment.
Which is why Lore and Walmart are bringing Jet.com's concept of algorithm-driven price transparency to the retail giant. As this new program gears up expect the company to start building out its in-store pickup towers – now being piloted in Arkansas – as well as curbside pickup, currently for grocery items only.
A 2016 Walker Sands Future of Retail report found 51% of consumers have picked up an online order in store, highlighting its growing popularity.
A seamless customer experience
Ed Kennedy, director of commerce at Episerver, said Lore and Walmart know that omnichannel customers are higher value and spend more both in store and online, another benefit of driving more store pickup besides the cost savings. "[The new program] is similar to an incentive that Jet.com pioneered previously, where consumers receive discounts when they add qualifying items to their cart," Kennedy said. "Walmart is simply extending that value relationship across channels."
Ben Gaither, a senior associate analyst with Robert W. Baird, said while Pickup Discount makes sense within the context of Walmart's low-price value proposition, "strategically it still doesn't solve the challenges regarding structural ecommerce convenience advantages."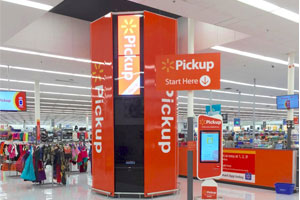 "At the end of the day, you still have to go to the store to pick up the item even with the discount," Gaither said. "Also if Amazon's price matching algorithm offers customers the same item at Walmart's discounted in-store pickup price, plus the benefits of free two-day Prime shipping, I'm not sure that's a recipe for success from Walmart's perspective."
Driving traffic to the store
Nick McLean, CEO of OrderDynamics, said the move will help Walmart is a great way to pull in shoppers who may be hesitant to do BOPIS. "However, it will only work to Walmart's advantage if they use the discount sparingly," McLean said. "The discount should be an incentive to get shoppers in the door and drive additional sales. By over discounting or offering the promotion on too many items, Walmart may end up losing profit margins on both online and in-store purchases."
David Spitz, CEO of ChannelAdvisor, took a different tack, saying Lore and Walmart weren't concerned with over-discounting but instead were using the program to "weaponize" their stores as an ecommerce asset in the battle against Amazon.
"Walmart has a lot of catching up to do so I think being aggressive is the right call," Spitz said. "I think it's smart and classic Marc Lore."
Spitz said he sees the program as "a wash" in terms of cost vs. revenue, adding that's beside the point. "Walmart, with Lore, is thinking more like Amazon – from the consumer perspective first," he said. "It's easier to deal with a cost problem than a demand problem."
One among several advantages Amazon still holds, Spitz said, was offering Prime deals for both first-party and third-party sellers. "So far Walmart hasn't solved this for marketplace sellers, which can be confusing for consumers who don't understand the difference," he said.
More options for customers
Tushar Patel, CMO of Kibo, said Pickup Discount is a win-win for Walmart, providing an array of fulfillment options while using BOPIS to drive in-store traffic and make stores the hub of their business. "It also offers consumers a new way to receive online-only items previously only available through ship-to-home fulfillment," Patel said.
In a recent study, Patel said, Kibo found saving on shipping costs was the top reason consumers chose BOPIS, followed by convenience of pickup time.
"Last-mile delivery makes up 28% of the costs of delivery alone," said Sarah Engel, CMO of DynamicAction. "Walmart knows this all too well and is turning to BOPIS to reduce this costly expense. Not only are they reducing the hit to their profits … but further setting themselves apart from Amazon by connecting purchase data across all channels and utilizing physical stores as local distribution centers."
Mike O'Brien is Senior Content Manager of Multichannel Merchant