We know COVID-19 has impacted all aspects of the retail industry and increased online sales. We saw a 40% year-over-year rise in the number of unique digital shoppers in Q1, and year-over-year unique page views and order count reached 15% and 21% respectively in March before skyrocketing in April to 96% and 88% percent.
As the need for online shopping grew, so too did the number of retailers stepping into email marketing for the first time, while others tried to squeeze even more out of the channel.
But did COVID-19 impact the way consumers respond to email marketing, and what can retailers learn from it?
In a recently released report, How COVID-19 Impacted Email Marketing Performance, Omnisend analyzed the email open, click and conversion rates of over 2.5 billion promotional emails sent from its marketing automation platform from Jan. 1 through April 26 in both 2019 and 2020. The results were quite telling about how consumers shopped during this time and what lessons retailers can learn from the results.
How Consumer Email Behavior Changed During COVID
We learned from the report that COVID did have a significant impact on consumer email behavior and the online purchase experience. Without going into all of the detail, let's take a quick look at the three email marketing metrics analyzed.
Email open rates: Overall, the report showed the year-over-year lift in open rates for the entire period increased by nearly 14%. But as you can see in the chart, the open rates significantly increased as we moved deeper into the pandemic, and from March 16 to April 26, year-over-year open rates increased by nearly 32%.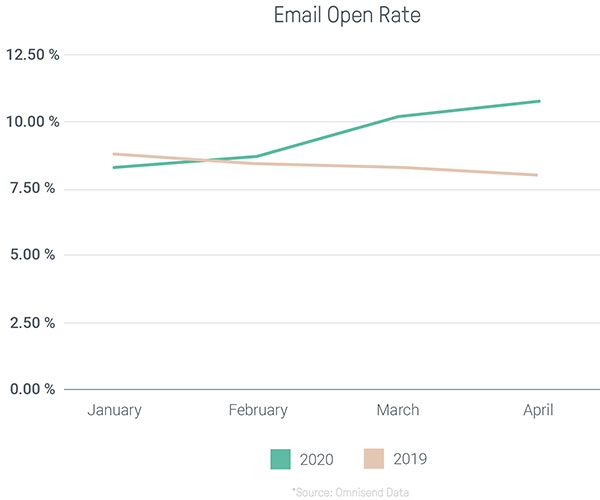 Email click rates: Click rates saw the opposite effects of COVID, realizing a decrease of just over 17%. Like with open rates, you can see how click rates suddenly decreased as the pandemic unfolded. In fact, during an 18-day stretch from March 12 to March 29, many days saw a 30% and 40% drop in click rates before ultimately rebounding.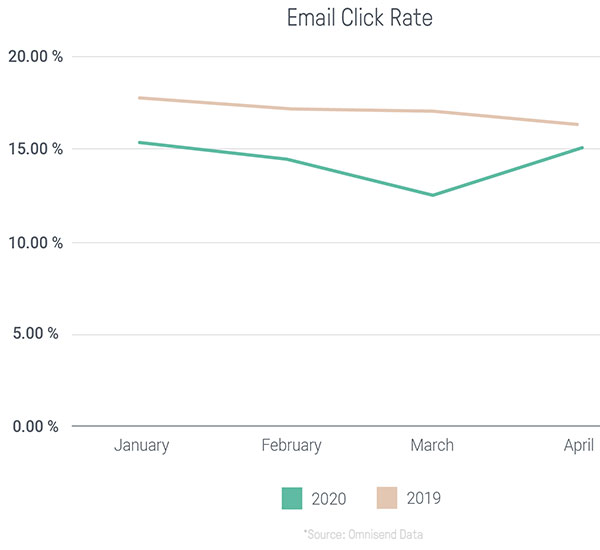 Email conversion rate: Email marketing continued to be a revenue-driver with increased conversion rates during the pandemic. Year-over-year conversion rates increased by 17% and saw a nearly 23% year-over-year lift from March 16 to April 26. Like with open rates, you can see the acceleration as we moved further into the pandemic.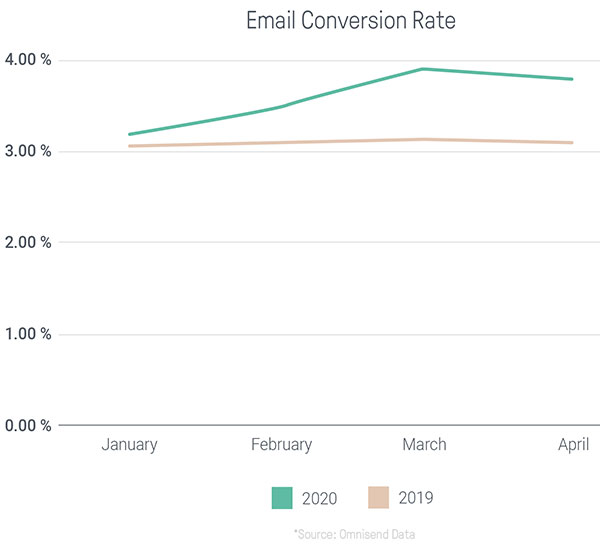 Key Takeaways and Email Marketing Lessons for Retailers
Two things became apparent when looking at the shift in consumer behavior:
Consumers turned to brand emails. As consumers across the country became increasingly reliant on online shopping, they turned to trusted brand emails for both sales updates and product discovery, increasing open rates.
Email was an effective communication tool. As consumers shifted from want-based shopping to need-based shopping, they moved on if a retailer email failed to meet their needs, negatively impacting click rates. If the retailer met their needs, consumers clicked and purchased, increasing conversion rates and generating online sales.
Recognizing how consumers interacted with brand emails during this crisis is one thing. Learning from it is another. Retailers should look to this consumer behavior and find ways to improve their marketing program by further differentiating from the competition, better preparing themselves for the next crisis, and recognizing email as a go-to marketing channel for consumers. Here are a few ways to do so:
Focus on list growth. By utilizing and optimizing tools like a website or exit-intent pop-up form, retailers can increase their audience size and become a trusted brand for consumers.
Increase your automated messaging capabilities. With email automations set up, retailers can deliver relevant messages to subscribers, making emails even more valuable. Consider how messages such as product and browse abandonment can help remind and convert customers who are shopping for specific products but have not yet pulled the trigger. FOMO became real during the crisis.
Audit your current automated messages. Ensure your automated messages are not only up to date but note which ones may need to be updated in times of crisis. A lighthearted cart abandonment message might normally be great, but not when a life-altering crisis hits.
Expand your opt-in channels with SMS. Email is a trusted communication channel, but it has become more crowded since COVID-19 struck. Other forms of trusted brand communication, most notably SMS, are increasingly desired channels by consumers. You can begin capturing mobile numbers on your email sign-up forms and as a stand-alone initiative. Consider sending an email campaign to your subscribers announcing the launch of your program and asking members to sign up.
Retail will likely be changed forever by COVID-19, but it doesn't mean it can't make you a better business. Focusing on building a stronger relationship with your customers will help you become a better company today and help offset any future negative impact of the next crisis. At the end of the day, email and SMS are opt-in marketing channels. If you're a trusted retailer, your messages will be welcomed by your customers.
Greg Zakowicz is a marketing strategist and content team lead with Omnisend