The holiday season is crucial for retail brands, generating around 25% of their overall annual sales. As brands compete for the attention of customers during this heavy shopping season, many pour a lot of effort into their social media presence. Every year, there's at least one commercial by Macy's or some other brand that goes viral on social media.
While many brands have a go-to playbook for holiday marketing, others stray from the norm. Women's sportswear brands, for instance, embrace an unconventional strategy.
To uncover how women's sportswear brands use social media during the holiday season, we looked specifically at five top brands: Lululemon, Nike Women, Outdoor Voices, Reebok Women, and Under Armour Women.
Most brands tend to post their holiday content between October and December. We explored what these five brands did during Q4 between 2013 and 2016. While there was a conspicuous absence of candy canes, pumpkins, and turkeys in these posts, it doesn't mean these brands ignore the holiday season completely. They weave holiday content into their staple content strategy. This way, there is uniformity in tone and continuity in their social messaging.
To give you a hint of the kind of content that women's sportswear brands usually publish, here's one of the most engaging posts from this group between October and December 2016: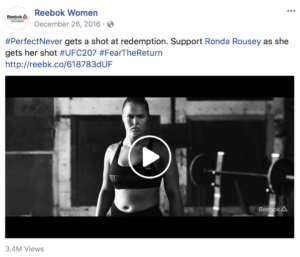 The focus is on women athletes and sports persons, training, and a fighting spirit. So, how do brands talk about holidays without sounding off-key?
These brands address the woman athlete and her pain points during the holiday season. Here are some common approaches with examples.
Holidays
The obvious way to discover holiday content is to check for content that mentions holidays in general, or specific ones like Christmas. Amongst women's sportswear brands there were very few results. Between October and December in the years 2013 to 2016, barely 7% of posts were about the holidays.
To give you a gist of what these holiday posts contained, take a look at the word cloud: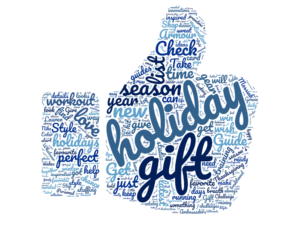 A large number of these posts centered on gifts and contained suggestions on what to get a fitness-focused friend or family member.
Adidas Women even had a dedicated album on holiday gift ideas. Here's an example: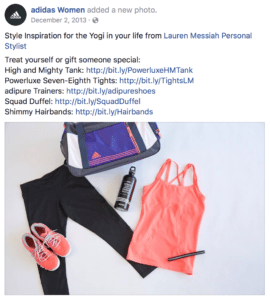 Workout, sweat, training, and motivation are still present in holiday-related posts. This reflects how these sportswear brands have positioned themselves. A great case in point is this New Year's greeting by Nike: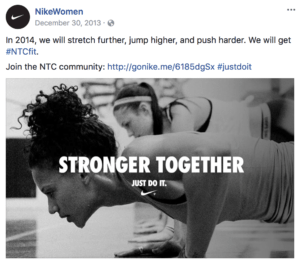 Similarly, in 2014, Lululemon posted a link to their blog post on 4 workouts their fans could do even while travelling during the holidays.
Winter training
The holiday season sometimes spells doom to our fitness regimen. It happens to the best of us when the cold sets in. When the most obvious thing to do is to layer up and be warm, training takes a backseat. Well, these sportswear brands will have none of that, as you can see from this iconic Snow Day commercial by Nike: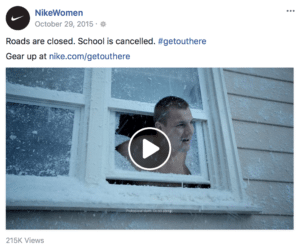 Many of these brands advertise merchandise that is tailor-made for keeping you warm during your workouts. Here's the most engaging post in this category between 2013 and 2016.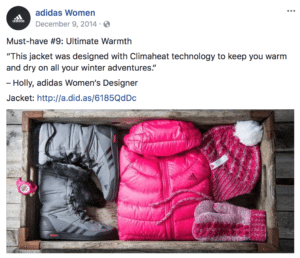 This is the most engaging post from the holiday season last year: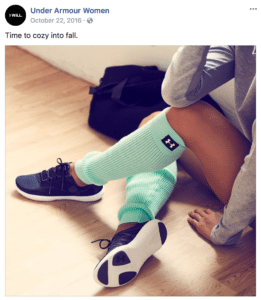 The difference in engagement between these posts is stark. While a post on winter training essentials received 1,116 interactions on average in 2013, this figure fell to 730 in 2016. This was after hitting an abysmal 174 in 2015.
This could be why women's sportswear brands are publishing fewer posts on this topic. In order to consider the fall in overall volume of posts published, we took a look at the percentage concentration of these posts. As the graph below shows, we looked at what percentage of the overall posts spoke about winter training and how much these contributed to total engagement.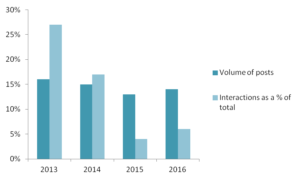 There's a decline in the number of these posts. This could be triggered by the evident lack of returns in terms of interactions. However, if you look at 2016, you can see that brands are getting better engagement than 2015 levels. Based on data, it is possible that this content type will make a comeback, supported by promotions.
A reason why this topic might be promoted is because most of these feature products. While they're seamlessly woven into a larger conversation on motivation to run in the cold and the dark, these push reflective gear, thermals, etc.
Takeaways
Know your audience. While cookies, pies, and candy are holiday staples, it may not be the best content to show while promoting fitness.
Have a clear idea of the social media trends in your space.
Use historical data, using owned and competitive analytics, to know what works and what doesn't.
Be mindful of your social media goals. If you are going to use social media to advertise your holiday sales, then promote a few posts that feature your merchandise but balance sales promotions with other valuable content.
When you do that, tune into the approaches other brands have successfully used in their holiday marketing. For example, focus on gifts, New Year resolutions, etc.
In conclusion, these brands show it's possible get into the holiday spirit without compromising an existing successful social media fitness regime.
Darsana Vijay, Social Media Journalist at Unmetric.