In part 3 of this promotional excellence series, Shikha Jain shares five best practices for making sure campaigns get noticed for the right reasons.
Consumers are becoming increasingly jaded when it comes to promotions. With discounts and deals around every corner, retailers are struggling to make their offers stand out. Too many campaigns come across as "just another obvious sales tactic" where the consumer fails to see any true benefits. Prices may appear to be reduced at first glance, but a quick search on a smartphone reveals the product was already available cheaper elsewhere.
On the opposite end of the spectrum, some deals are so overused that consumers expect them and won't shop without them, leaving the retailer with nothing to gain in the long run. A recent Simon-Kucher poll reveals that an alarming 36% of retailers feel that their consumers are too reliant on promotions and it is hard to trigger purchases without some sort of discount.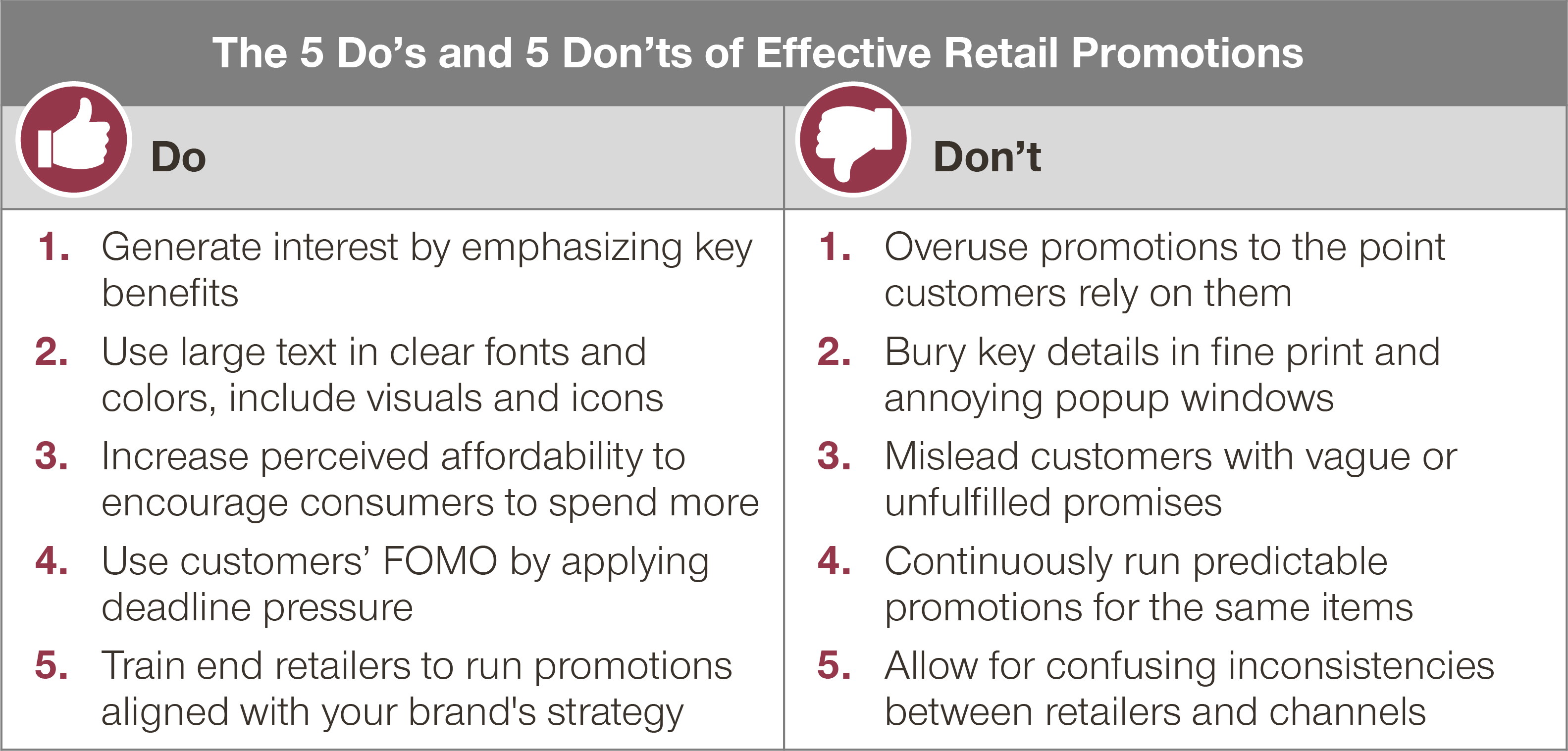 Promotions must be attractive for everyone. This article presents five best practices for successfully applying your promotions so that everyone sees the benefits:
Put your deal center stage
For consumers to act on the promotion, it must get noticed. Avoid burying key details in fine print and use large text in clear fonts and colors. If what makes your offer special is the huge percentage off, then highlight that against a contrasting background. To guide consumers, include "Top seller" or "Selling Out" icons. With online promotions, steer clear of too many annoying popup windows that could lead consumers to abandon their cart. Instead, use the screen space you already have, and add simple buttons that take consumers to the finer details. Wherever your promotion appears, always generate interest by emphasizing the key benefits and what consumers will gain.
Use psychological tactics to your advantage
Behavioral psychology plays an important role in promotions. Make sure that your campaigns increase the perceived affordability of your products. Wording such as "As low as" or "Up to X % off" can be a very effective way to grab attention and improve value perception. If you plan on having promotions that layer on top of each other, use them wisely to leverage consumer behavior and showcase a greater savings message. For example, a tiered promotion where you save 10% off $100+, 20% off $200+ and 30% off $300+ creates aspirational targets for the consumer to spend more and save more.
Include a crystal clear call to action (CTA)
A clear call to action goes hand in hand with leveraging consumer psychology. Many of us have a fear of missing out (FOMO) and are wired to react to a message that conveys a sense of urgency or scarcity, so don't hesitate to apply time pressure. For example, messaging around "Limited quantities available," "While supplies last," or "Hurry, offer ends soon" are popular teasers. But, you have to have to follow through with the expiration dates. Consumers are quick to game the system and catch onto false moves so be careful about how you train them.
Be in the right place at the right time
Be careful not to overuse promotions. Run them too often and people will start to question the integrity of your campaigns. Or, if you continuously feature promotions for the same items, you'll reduce long-term effectiveness, erode the perceived value, and teach consumers to only buy at a discount. Instead, run promotions that are less predictable. This can be achieved by changing either the type of event or the product/assortment on promotion. Good timing and sequencing prevent accidental overlapping and confusion among shoppers when you are running concurrent promotions. Also, a detailed understanding of the habits surrounding your brand helps you pick the right kind of offers.
Promote where consumers shop
Consider exactly where consumers will first see your promotion. Will it be a direct email campaign? On a flyer? In-store? To drive brick-and-mortar traffic, prominently hang signs in the store windows. To increase basket value with impulse buys, place items near the checkout. Also, look at how people navigate your online store. Some search for specific items by category, while others scroll for discounts. Allowing customers to sort products by "% off" or total saving will help them focus their precious time on adding to their basket. Meanwhile, smartphones make it possible to evaluate products online while standing in the store, and consumers might find the same item on promotion on another retailer's website. So it's essential to balance your consumer story and train the end retailer to run promotions that align with your brand's overall strategy.
Run successful promotions now and in the future
Consumers are becoming increasingly sensitive to retailers' promotion strategies. Comparability on the internet removes the "blindfold" from the consumer, and poorly executed promotions run a higher risk than ever of backfiring and actually damaging your brand.
At the same time, new technologies also provide advantages for retailers. There have never been more ways to incorporate consumer data into your promotions to create tailored offers for the right person, place, and time. Consumers have always loved a great deal, and they still do. You don't have to stop running promotions altogether, but you stand to benefit by taking a more strategic approach to how you apply them.
Shikha Jain is a Senior Director at Simon-Kucher & Partners