After two years of rapid change in ecommerce and retail, what do consumers want? Trust me, they'll tell you, via Voice of the Customer (VoC) data, and you should be asking and listening.
Now that a great customer experience is table stakes, retailers need to know more about them to stand out, making VoC data that much more critical. That's why Forrester predicts that "insights-driven firms will be three times more likely to outperform their competitors" this year.
To better understand why and how customer experience impacts consumer behavior, ClearSale surveyed more than 5,000 ecommerce in the U.S., Mexico, Canada, the UK and Australia about their shopping habits from March 2020-March 2021. Here are some of the key findings and recommendations.
Provide the Payment Methods Customers Want
Over 70% of consumers always or sometimes pay online with a digital wallet such as Apple Pay, Google Pay or PayPal.

Image credit: State of Consumer Attitudes on Ecommerce, Fraud & CX 2021, ClearSale
Digital wallets create a better experience in several ways. First, they save time. When a customer can tap a digital wallet button to check out, they don't have to add payment data and billing address, and check that shipping and billing addresses are the same.
They also make checkout easier and more accessible for everyone by doing away with data entry. That's especially helpful for shoppers who have trouble seeing or tapping tiny characters on their smartphone or who are multitasking.
Third, digital wallets alleviate security concerns, because the provider doesn't share payment account data with the merchant. For the 32% of consumers who cite concerns about where their data is stored and who can access it, digital wallets can make the difference between a completed purchase and cart abandonment.
Be Upfront About Your Security Practices
A third of consumers surveyed said "knowing my information is secure" will keep them shopping online. While some retailers hesitate to talk about security practices with their customers, 88% of ecommece shoppers said they feel safer shopping on sites that clearly state which data privacy and fraud prevention tools they use.
It's not necessary for retailers to share so much security information that they make it easy for fraudsters to evade their safeguards, but it is necessary to reassure shoppers with at least basic information about how they're protected. Sites that don't communicate security practices risk losing revenue to cart abandonment. Thirty-six percent of those surveyed said they've abandoned an online purchase because they didn't trust the site with their credit card information.
Understand Why Some Categories Perform Better Online
In the 12 months after the start of the pandemic, clothing and accessories were the most popular category online, followed by electronics and home goods, while travel and luxury shopping fell off.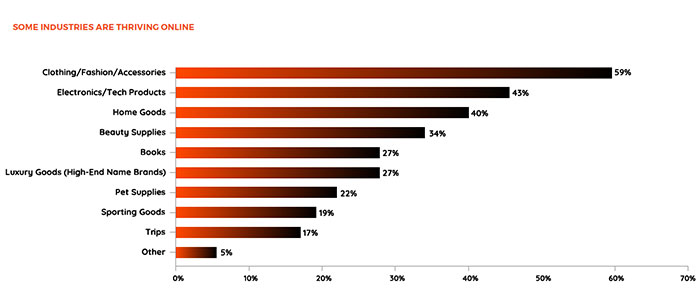 Image credit: State of Consumer Attitudes on Ecommerce, Fraud & CX 2021, ClearSale
These rankings make sense given lockdowns and work/school from home. Casual clothing, laptops, desks and chairs were in high demand as shoppers adjusted to the new way of doing things. However, CX also played into why these categories were still popular with online shoppers a year into the pandemic era, even after stores were reopening.
Many retailers improved their virtual try-on tools for clothing purchases, and provided 3D views of furniture and home goods to give shoppers a better sense of them before purchasing. Now, those tools, combined with two years of accelerated ecommerce shopping habits, make it just as easy if not easier for them to continue buying online in those categories. If you want to maintain customer loyalty, always be looking for new ways to make the online buying experience less risky and more like the store.
Know Which Devices They Shop On
Across all age groups, 40% always have their phone with them while they browse. Only 32% of shoppers always have their laptop or desktop computer on hand while they shop, and that figure drops to 16% among shoppers aged 18-24.
Consumers spending habits correlate with device use as well. Nearly half (47%) of shoppers who spend $400 or more online each month always have their phones on hand while they shop. Among shoppers who spend $50 or less each month online, just 39% keep their phones on them while they shop, while 40% are near their computers.
Every ecommerce site should work well on any device. But when you understand which devices your customers prefer for browsing and buying, you can create journeys that cater to those preferences. For example, if you have an upper-income clientele, you may want to invest in push promotion campaigns and ensure that the mobile shopping experience is as convenient as possible. Likewise, if you cater to shoppers making smaller purchases, focus on page speed and easy navigation to connect with those with data plans or bandwidth that may be more limited.
Using VoC Data
There are so many ways to collect VoC data, including:
Post-purchase and post-customer service surveys to track net promoter scores.
Social media mentions, engagement with posts, product unboxing videos and customer review videos.
Customer reviews on retailer sites and on third-party websites.
Direct feedback via emails, calls, and chats with customer service.
Focus groups and third-party customer surveys.
To use VoC data effectively, marketing teams need to monitor all the relevant channels, collect and categorize the data, and watch for trends that may emerge. For example, do customers love your product selection but complain often about slow shipping? Are sizing issues creating a higher-than-expected rate of product returns?
By tracking what customers have to say about their experiences with your brand, you can continuously build on what works, improve what doesn't and create stronger customer relationships.
David Fletcher is Senior Vice President at ClearSale