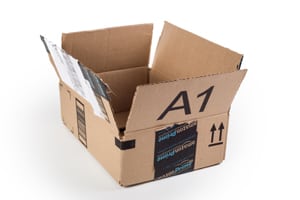 Much as it has with cloud computing, Amazon is poised to move in a big way into third-party transportation and logistics services, leveraging its vast network of fulfillment and distribution centers as well as its massive data and cloud assets, according to an equity analyst and media reports.
Colin Sebastian, an ecommerce analyst for Robert W. Baird, predicts in a research note that Amazon will find the lure of an incremental opportunity in the estimated $400 billion-$450 billion transportation and logistics sector too good to pass up, even dubbing it "Amazon Transportation and Logistics."
"We note there is currently $170 billion in market capitalization in legacy (logistics and transportation) companies that may be ripe for disruption," Sebastian said in his note. "Just as Amazon Web Services (AWS) contributes an incremental $50 billion in Amazon value, we believe logistics could ultimately add billions more." He also notes Amazon's ever-growing network of fulfillment and sortation centers – 167 globally, with 92 in the U.S.
UPS declined to comment on the reports, saying only that Amazon is a customer; FedEx did not respond to a request for comment.
Sebastian reckons Amazon will follow its model of leveraging internal resources to provide third-party services like its hugely successful AWS cloud platform, a major contributor to the business.
"The premise of why Amazon pursues different market opportunities is, can they be relevant, and do they have something they've built internally to run their core retail business which can be applied as a product or service for third parties?" Sebastian said. "Looking where Amazon has expertise and lots of capacity, logistics seems the next logical step."
Asked about how much of Amazon's logistics calculus has been impacted by the 2013 holiday shipping debacle – when legions of orders arrived late for Christmas due to carrier network and weather issues – Sebastian said he didn't think it was a major factor.
"Amazon was already moving in this direction, including starting Fulfillment By Amazon a few years ago," he said. "And they were already delivering groceries in Seattle before 2013. The lines have been pointing in this direction for a number of years. The issues around the 2013 holiday may have pushed in that direction, but the wheels were already in motion."
Scot Wingo, executive chairman and founder of ChannelAdvisor, agreed with Sebastian that this is yet another case of the Amazon playbook being put into effect, based on observing the ecommerce giant closely for the past 10 years.
"As its distribution and fulfillment center footprint grows, at some point Amazon says, 'you have packages to ship across the country, and we have trucks going between facilities' " said Wingo. "While it's different than the hub-and-spoke model of UPS and FedEx, I can imagine their trucks moving between pins on a map. It's not a huge leap to see Amazon getting into that business."
Wingo noted that Amazon is already load balancing products across its U.S. fulfillment network. He figures the incremental cost of adding last-mile delivery, combined with its data and network prowess, would allow Amazon to undercut UPS and FedEx on price and challenge them in the last mile.
To facilitate delivery, Wingo said Amazon would likely stich together a combination of owned and operated assets, the recently announced Uber-like Amazon Flex and the U.S. Postal Service. The USPS has been a growing fulfillment partner of Amazon, including Sunday deliveries, and could make sense as an expanded provider.
"They could surgically go in and start selecting the most profitable routes they want to own more of," Wingo said. "For example, they could look at certain ZIP codes and see, this is a high-density area of Prime members, and the houses are close together. When they run their economic model, it makes more sense for them to deliver there. Then an orange Amazon truck comes and brings your daily stuff."
Stuart Rose, a managing director in investment bank Tully & Holland, which advises consumer product companies on M&A activity, said that given its huge market capitalization it was "possible but not likely" that Amazon would merge with one of the major carriers. Assuming Amazon launched a logistics operation and initially diverted even 20% of its $9 billion annual shipping spend – or $1.8 billion – from the carriers, "that would hurt," Rose said.
To that point, FedEx chairman Fred Smith told analysts last year on a quarterly call that a significant loss in volume from a major customer negatively impacted earnings, which many observers believed was referring to Amazon.
"Amazon could get in with a smaller player in multiple cities that have same-day delivery," Rose said. "A couple of them, if strung together, could plug very nicely into Amazon. Something that brings Prime from two-day to next-day shipping and captures some profits, I could see that."
In the unlikely event that Amazon decided to handle all of its own shipping, and earned 10% profit from merchants in the process, that would be $900 million in earnings, "double what they're doing now," Rose said.
Different ways the carriers could fight back against an Amazon logistics play, Rose said, included battling on price, but at the expense of earnings; establishing more alliances (the U.S. Postal Service, large retailers like Walmart and Costco); and finding ways to compete on service, like more same-day and overnight offerings.
Bruce Strahan, a partner in shipping consultancy The Progress Group, said the major carriers' complex network infrastructure allows them to quickly ship from anywhere to anywhere, with orders often passing through a series of aggregating sort centers.
"If a shipper is sending parcels from one or two U.S. locations, like most of the ecommerce industry, they rely on what the carriers have built and automated to efficiently move through multiple sort centers," Strahan said. "Now contrast that to Amazon, where the majority of the volume is traveling shorter distances, say 50 to 200 hundred miles. For this volume, Amazon doesn't need the same infrastructure complexity, which would probably make them confident they can cherry-pick the easiest shipments at a lower cost."
One question, Strahan said, was how Amazon could scale up for the massive holiday peak period, an exercise the major carriers have down to a science.