With the use of smartphones, consumers are now in-play even after they cross the thresholds of stores.  In a new study on mobile search activity by Hitwise, a division of Connexity, 77% of retail searches that mention "coupon" are initiated on a smartphone or tablet.
The same goes for searches seeking a "sale" (73%) and 68% for "discount" searches.  Comparison searches that have the potential to close a sale, such as those focused on "return policy," "price match" or "reviews" were initiated on a mobile device at least 77% of the time.
The study also revealed that deal-seeking searches for online purchases, like those looking for a "promo code" are more likely to start off on a desktop, as traditional computers are still the preferred devices for conducting most types of online transactions.
Location-based retail searches are among those most heavily skewed towards mobile.  These include searches that incorporate words "near me," "hours," "24 hour" and those that start out with "where to buy."
"For the retail industry, understanding the device from which different online searches originate can mean the difference between closing the sale and not," said John Fetto, Senior Analyst at Hitwise.  "That's because especially for traditional brick and mortar establishments, the smartphone has become an indispensable shopping tool providing consumers – sometimes within feet of a register – with information or offers that could seal or jeopardize a transaction."  "According to our analysis, 56% of searches resulting in a visit to the Hitwise Retail 500 (a collection of the top 500 retail websites) now come from smartphones or tablets."
In addition to searches tied to in-store shopping and deals, searches for items intended as gifts or other items that a consumer may want to keep under wraps, like "jewelry" and especially  "engagement rings"  are focused more heavily on a personal mobile device.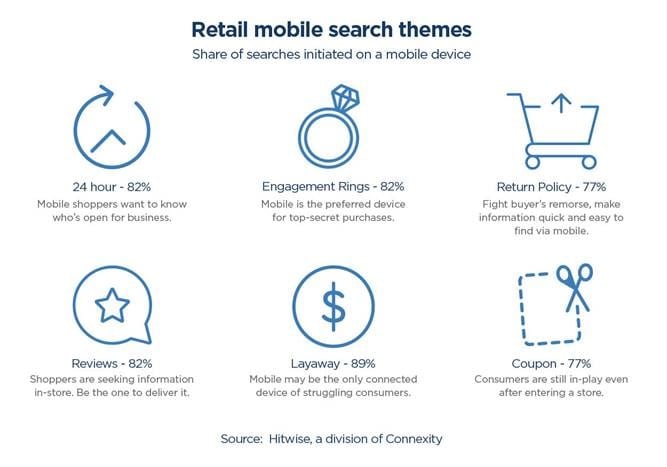 This device choice minimizes the risk that a significant other or older child will find evidence of such surfing through the browser history of a shared computer spoiling the surprise.
"With so much shopping activity occurring online, including while consumers are shopping in physical stores, online search may be one of the best ways to influence shoppers," said Fetto. "Understanding the device from which different types of searches typically originate and then formulating a strategy for engaging the consumers behind those searches is critical. And the risk of not doing so – lost sales, unhappy customers, missed opportunities are enormous."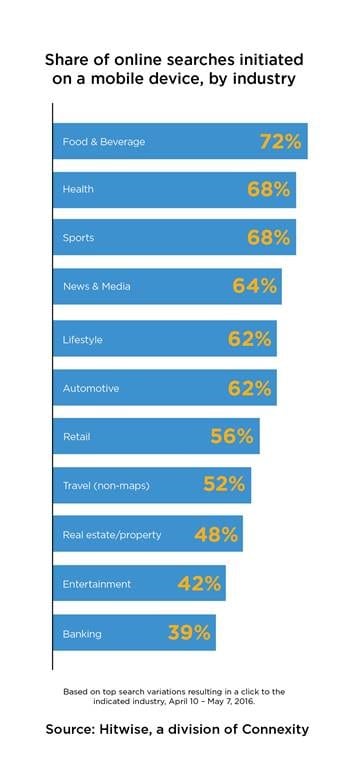 Mobile devices now account for a majority—or near majority—of online searches for almost every major industry.