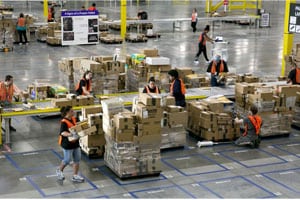 In its continuing march toward setting up its own logistics and shipping operations, Amazon plans to complete its acquisition of French package-delivery company Colis Privé, according to the Seattle Times. Amazon had already bought a 25% stake in 2014 and now is taking the rest, the paper reported.
While Colis Privé is a relatively small player, and its spokesman says it will continue to work with major carriers and grow its retail accounts, the move does signal Amazon's intentions to get more heavily involved in logistics and shipping as well as fulfillment and sorting through its vast network, domestically and globally.
Last month it was reported the company planned to lease 20 Boeing 767 cargo jets, and that it was reportedly running flights out of an old DHL Express facility in Wilmington, OH, and that it was planning to roll out thousands of branded trailer trucks.