After staying suppressed for years, wages are increasing well ahead of inflation for warehouse workers, driven by a strong economy as well as the scarcity of labor for operations and fulfillment positions, according to an annual survey of associates conducted by Prologistix.
In the survey of 16,000 warehouse workers conducted between February and the end of March, the average hourly wage was $13.30, up from $10.46 in 2012. Prologistix, the logistics unit of EmployBridge, represents about 19,000 U.S. warehouse workers, rising to about 22,000 during peak season.
A rate of $12 per hour was seen as the floor for warehouse associates surveyed. Sixty-five percent said they make at least that much, up from 59% in 2017 and 36% in 2016, a rapid rise.
In July, the Bureau of Labor Statistics noted a 2.7% year-over-year increase in U.S. wages, while the hourly rate for warehouse workers has increased 6.7% since 2017, according to Prologistix.
Another indicator of the changed landscape is the fact that over a third of warehouse workers (36%) listed $1 per hour as the minimum shift differential they would accept today. Given the tight market and high demand, associates can often find another warehouse job within hours, not days or weeks, said Brian Devine, president of Prologistix.
"Four or five years ago if a company offered 35 cents or 50 cents in shift differential, that was enough to move needle to get the workers they needed," Devine said. "That's simply not the case today."
Devine said since 2009, in the thick of the last recession, the gap between the growth in the annual Consumer Price Index (CPI) – broadly seen as the "cost of living" – and the growth in the average warehouse wage grew wider year by year, which he was not sustainable without some kind of correction.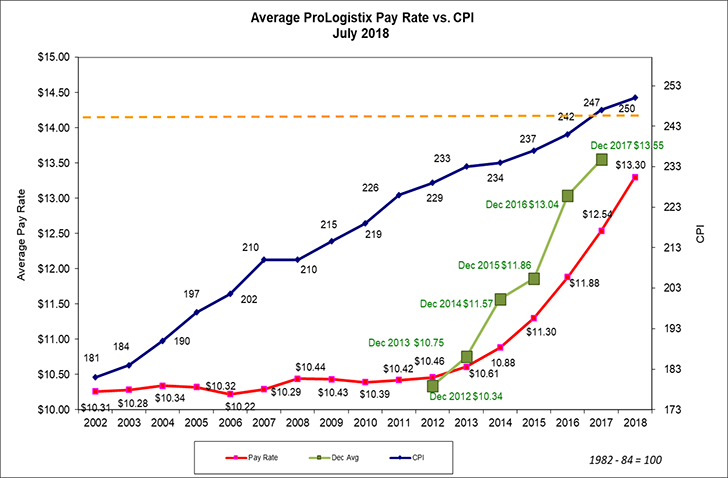 Source: Prologistix
"Either states or localities would have to increase their minimum wage, or there would be more labor unions (for warehouse workers)," Devine said. "The hourly workforce, the guys at the bottom, just wouldn't go to work for these compressed wages. Sure enough, there has been a correction in the market, specifically in pay rates for associates."
Not surprisingly, pay remains the top job priority for warehouse workers, followed by job security and company culture. Down at the bottom were shift flexibility and recognition on the job. This has been the case since Prologistix began conducting the survey in 2007.
"Most executives think these hourly workers look at work the same way they do, which simply isn't true," Devine said. "We're talking about Maslow's hierarchy of needs here. These folks are worried about food and clothing and shelter first. Unless that's covered, they can't worry about advancement opportunities, just about the rent payment on Friday."
Based on the survey and its history, BLS data and economic indicators, Devine predicted the average wage for warehouse workers would continue to rise over the next 12-18 months to about $14.10 an hour, then stabilize and keep pace with inflation.