Drop shipping is seen as beneficial by nearly all retailers and manufacturers who take part in it, the former from an expanded SKU assortment without inventory carrying costs, and both parties from increased sales, a new survey found.
In the survey conducted by Lehigh University's Center for Supply Chain Research, in conjunction with B2B integration provider DiCentral, 87% of the 180 global retails and manufacturing executives said drop shipping led to an increase in sales. Eighty-four percent said it improved customer service and 79% said profitability was increased. Other benefits cited were improved market share (cited by 78%) and reduced costs (63%).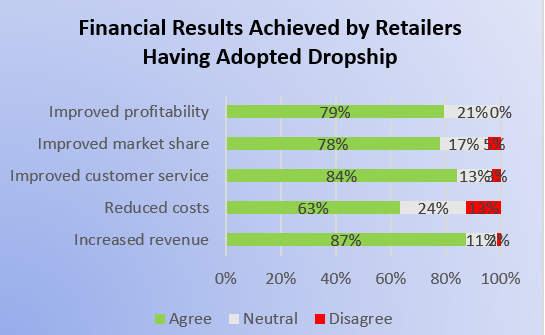 One-third of respondents to the survey were from retail companies, while the rest were from CPG manufacturers. Just over half of them have more than five years' experience with drop shipping, while another 22% have been doing it between two and five years.
"Enterprise drop shipping, in which the manufacturer fulfills orders on behalf of the retailer directly to the end consumer, has been around for decades, but has recently gained popularity due to the growing consumer expectations for a broader assortment and category selection," said Thuy Mai, president and CEO of DiCentral. "Utilizing drop shipping programs allows retailers to improve the customer experience and increase revenue by expanding their virtual inventory without incurring additional carrying and fulfillment costs."
In terms of challenges that could prevent an organization from adopting a drop shipping model, the study found no one single factor was an overwhelming deterrent. Thirty-two percent of those surveyed cited system issues (ERP, OMS, WMS, etc.) as the chief barrier, the highest response for the question. Other deterrents included resistance to change and budget constraints (25%) and competing priorities (23%).
The report noted the critical importance of aligning the strategy of merchandising, logistics, ecommerce and compliance, and the need for technology to support collaboration among partners, especially enabling inventory visibility. "Without real-time insight into inventory levels, retailers run the risk of virtual stock-outs and lost sales opportunities to other online retail competitors, as well as reputational damage," the report stated.
The success of a drop shipping program is entirely depending on the high degree of collaboration between retailer and manufacturer, the study found, including tight system integration and open, frequent data sharing.
"Retailers gain increased visibility into the manufacturers' behaviors, which in turn increases the retailer's confidence that products ordered are acknowledged and shipped within the promised timeframe," the report stated. "Retailers equipped with this readily available information can provide higher levels of customer support when consumers seek clarity about their orders or seek to make modifications."
Dr. Zach G. Zacharia, associate professor of supply chain management at Lehigh University, said in most instances, the more mature a company was in terms of retailer and manufacturer collaboration, the more success each party experienced.
"The drop shipping model is positioned as a vital component of the modern retail landscape," Zacharia said. "Clearly, the more we understand how drop shipping operates, the better prepared retailers and manufacturers will be to take advantage of the opportunities and avoid the risks that will arise in this new retail reality."
A spokesperson for DiCentral said the study didn't address channel conflict in drop shipping between retailers and manufacturers, as it focused on their relationships, collaboration and results, adding there was some anecdotal evidence indicating it was happening.