Holiday spending is challenged, so retailers get creative. (Photo credit: micheile dot com on Unsplash)
With lowered expectations for holiday spending amid inflation concerns, consumers continue to hunt for deals as early promotions helped lure them in but not in the hoped-for droves, and inventory issues overhanging from last year continue to plague retailers.
Retailers are pursuing strategies including heavy discounting and promotions, and increasingly using resale platforms like Poshmark, ThredUp and Etsy to clear out excess stock, Bloomberg reported. And report after report confirms the impact inflation fears are having on holiday spending plans.
In a survey of 1,072 consumers by online coupon provider RetailMeNot, 41% said they were forced to reduce their overall budgets this year, while another 24% said they're tapping into savings, and 23% are prioritizing which bills to pay. Overall, the survey found, 70% of consumers are taking inflation into consideration this holiday season.
According to retail data and pricing analytics firm DataWeave, electronics and apparel were the two categories seeing the least inflation impact in October vs. a year ago, at 3.8% and 3.1%, respectively. These two categories also saw movement in terms of inventory availability, with electronics on the upswing — meaning increased pricing and competitive pressure — while apparel was trending down, possibly indicating assortment refresh heading into the holidays.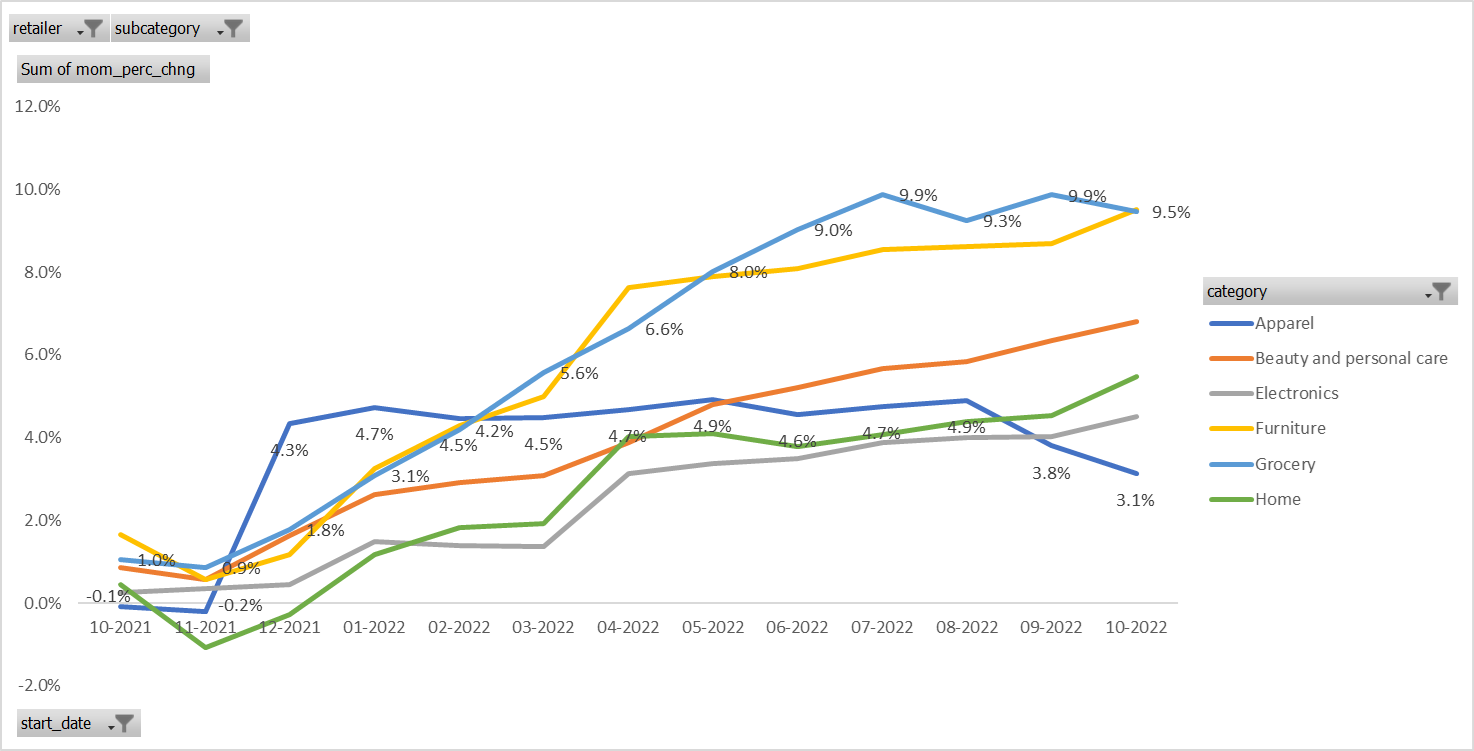 Retail category pricing trends, Oct. 2021 to Oct. 2022. Source: DataWeave
Nikki Baird, VP of Strategy at retail technology firm Aptos, said overstocks aren't across the board. For instance, an apparel company may have too many sweatpants and not enough jeans. She added many companies received goods this summer that had been delayed from the 2021 holiday season, further complicating the inventory woes.
"It's exceedingly difficult to match the speed at which consumers switched from pandemic-era buying habits to revenge travel and more in-person activities," said Baird, a former analyst and partner at Retail Systems Research. "Retailers have made some progress in clearing out the excess. From what I hear, they expect to be back on track to better matching supply to demand by spring of 2023."
Many forecasts are calling for ecommerce spending growth for the peak holiday season (October through December) to fall well below 10% for this year, following a 2021 that saw strong sales as many stores remained closed while inflation had not yet clamped down on consumers.
The National Retail Federation is forecasting overall holiday spending growth between 6% and 8%, compared to 13.5% last year. eMarketer has a less rosy picture for ecommerce for the holidays, calling for anemic growth of 2.5%, off the back of an 8.6% gain last year and a 33% boom in the lockdown year of 2020.
This may be attributable to the fact that store traffic is recovering somewhat. According to data from retail platform Leap, domestic same-store sales were up 84.4% in October, compared to a rise of 31.7% last year, an increase of 166%. Also, the gap is narrowing between retail visits this fall vs. the pre-pandemic year of 2019, based on data from Placer.ai, which follows foot traffic patterns. This was especially true for department stores, shopping centers (both strip centers and malls) and specialty clothing retailers.
Gift cards appear to be a hot topic in 2022, according to RetailMeNot. Based on its survey results, holiday spending per person will be down 8% from last year to $725. But gift cards were cited as a top spending category by 56% of respondents, followed by clothing and accessories (51%), toys (40%), food and beverage (35%), electronics (33%), shoes (32%) and books (27%).
The pullback in consumer spending, while painful, has led to excess capacity in shipping and carrier networks, lower TL and LTL spot market rates and a drop in ocean freight, well as a reversal of massive port logjams. "Muted" peak demand seems to be the watchword from trucking executives and experts. This means expectations are raised for a better customer experience in terms of delivery dates offered and on-time performance.
"This is one area where I think retailers will be better prepared," Baird said. "There is a greater level of sophistication in what retailers can do to shift where they source supply, to enable them to promise quick delivery much later in the season than usual. This includes moving more fulfillment to stores, tapping into inventory that's already naturally closer to the customer."