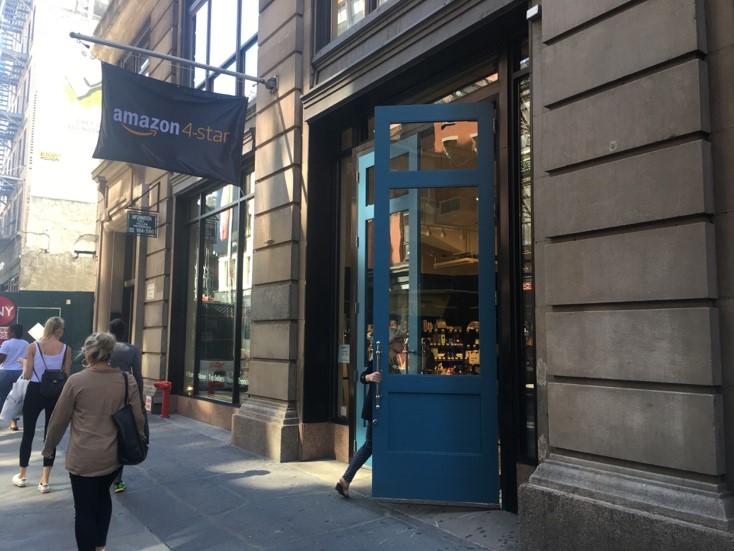 On a recent trip to New York, I took the lovely ten-minute stroll from my hotel to Amazon's newly opened SoHo neighborhood retail store, Amazon 4-star. For those that are unfamiliar with the concept, the store showcases only products that are new, trending, or rated 4-stars or above on Amazon. With a simple Google search, you will find plenty written about the store and its layout. But during my visit, I couldn't help but think there was a much grander plan being rolled out before my eyes.
Let me take a moment to call out some of my own observations and what they could be signaling for the future for Amazon's brick-and-mortar retail business.
Small sections. The footprint of the store was small (but maybe not for NYC standards). That required the different "departments" to carry fewer products. There just wasn't a wide selection of products from each category to choose from. Is this a bad thing? Not necessarily, and here's why:
Having a limited, random assortment of products that never change won't be enough to ensure repeat customer visits. After all, how many Instapots does one person need? Carrying fewer products will certainly require the store to rotate products, keeping the store fresh and maintaining consumer interest.
Pricing: Amazon, like many sites, utilizes dynamic pricing. Providing a seamless shopping experience both online and in-store with consistent pricing can be a challenge. Amazon's answer is electronic shelf tags that can sync from online to in-store. Like many things Amazon does, this provides a more cohesive consumer experience. Amazon also promotes the benefits of being a Prime member by showcasing the Prime member pricing on the price tag.
Product bundling: In-store merchandising has improved over the years. There was a time when putting peanut butter and jelly next to each other on the shelf wasn't commonplace. Like Amazon does on their site, they brought the product bundling experience to the store. You can see displays of "frequently bought together" products. They also have dedicated tables for products popular in New York City. This demonstrates their focus on using online purchasing data to integrate it into in-store merchandising.
Amazon products: And, of course, it wouldn't be an Amazon store without drawing attention to some of some of its core products: Alexa-enabled devices, Fire TV, and Ring products were all prominently displayed. I felt like all of the other products in the store were a way to put some window dressing on the fact the store's whole purpose is to drive adoption of these devices.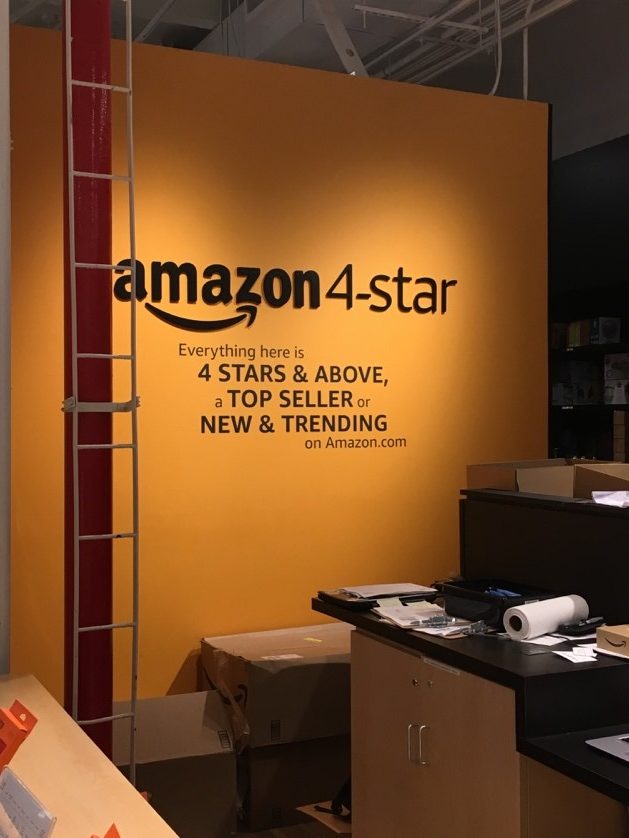 Checkout Process: Unlike the cashier-less Amazon Go stores, Amazon 4-star's checkout process is more traditional. While I did not purchase anything during my visit, I watched others checkout. To me it seemed a bit clunky. Some were clumsily messing with their phones while cashiers were trying to assist them. This seems far removed from the seamless checkout processes of one-click purchasing and cashier-less stores. I wonder if this will be improved as time goes on.
Overall, the store was inviting and could be useful for grabbing a USB cable, or maybe a new Ring doorbell. But how many of those things do I need? This can't be all, can it? I mean, what's the end game?
Maybe This Is Just the Beginning
While this store has an interesting concept of bringing the familiarity of the online shopping experience in-store, something has me asking myself, "what's the deal with this?" Am I to think that Amazon, which is so concerned with customer experience, obstacle-free checkout processes, and ease of fulfillment and delivery would open up a single, small footprint store with a limited, and presumably rotating, inventory?
To me, something doesn't quite add up.
There are some things this store is noticeably missing, like clothing, which makes up more than half of Amazon's 70+ private label offerings. And home goods, jewelry, and other private-label categories of products. I immediately start thinking of that interesting Amazon-Kohl's partnership that no one seemed to make sense of.
I am on record as saying I believe Amazon is looking to move into more large-store formats. It's worth mentioning that you could easily fit this entire store into a Kohl's location and have room leftover for lots more products. Could this store concept simply be a test to combine online and in-store purchasing data to determine the best way to merchandise in a larger store format? Doing so would provide them an opportunity to expand their offerings, such as their clothing and other product categories.
While I don't believe Kohl's is an acquisition target, I see the Amazon 4-star concept as just another toe in the water of the large brick-and-mortar swimming pool.