The Halloween candy is probably still sitting in children's bags and jack-o-lanterns are still aglow on people's front porches, but the holiday shopping season has arrived.
Some holiday promotions seemed to have started a little before Halloween, but as soon as we turned the calendar to November, retailers flipped the holiday promotions switch.
Black Friday and Cyber Monday are no longer the start of the holiday shopping season. Each year it's starting earlier and earlier, to the point where industry experts are calling it "Gray November" as retailers begin the holiday push.
For a lot of retailers convenience and savings is the name of the game, they're responding to and delivering on consumer demands. Promotions are running at 50% off or more, with free shipping and/or buy online, pickup in store (BOPIS) as options.
In fact, The National Retail Federation reported that nearly all online shoppers will take advantage of free shipping (94%), with just about half (49%) doing store pickup. Nineteen percent request expedited shipping and 12% expect same-day delivery, the NRF found.
The NRF is also expecting holiday sales to increase from 3.6% to 4% for a total of $679.8 billion to $682 billion, up from $655.80 billion last year.
In a study by Deloitte, holiday online gift-buying sales are expected to top $110 billion this year, with Deloitte defining the period as November through January. Overall holiday retail sales are projected to top $1 trillion this year, a 4% to 4.5% gain over 2016.
For the first time ever, online is the most popular channel according to 59% of consumers, Deloitte found. Fifty-seven percent will shop in department stores while 54% will shop in discount stores.
Retailers are also getting people ready for holiday events, and it's not just about flat-screen television deals and toys. Merchants are giving consumers tips and tricks and promoting holiday-themed clothing, doing everything to help shoppers make the most of the season.
Here are some examples of how major retailers are gearing up for the most wonderful – and busiest – time of the year:
Amazon
Amazon is offering "Countdown to Black Friday" deals, starting this week. Several of Amazon's own products are of course promoted, like the Fire Stick, Amazon Show and Echo Dot. The ecommerce giant has also announced that Cyber Monday deals will extend an entire week after Thanksgiving.
Amazon is offering deals across every category through Black Friday, including deals of the day.  A new wrinkle, Amazon is offering all customers – not just Prime members – free shipping on orders of $25 or more on 100 million items, starting this holiday season and continuing on. This puts it below the $35 threshold of rival Walmart and several others. There are also free shipping offers from small businesses on the Amazon marketplace.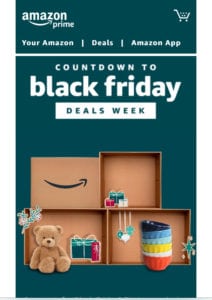 eBay
eBay kicked off its "First Minute" holiday shopping with new early deals, price matching and fast delivery with its Guaranteed Delivery program. An eBay study found that most people don't want to wait until it's too late when it comes to holiday purchases. In fact, 45% of shoppers start holiday shopping well before Black Friday, eBay found.
Walmart
Walmart launched its holiday specials where consumers get early access on deals now across various categories throughout the store. Walmart is also adding free two day shipping, free same-day pickup and free grocery pickup.
Kohl's
Connecticut Post reported that Kohl's Black Friday Doorbuster ad is the first circular from a major retailer leaked from the 2017 holiday shopping season. On its website Kohl's is pushing BOPIS along with "10 Ways to Win Black Friday" promotions.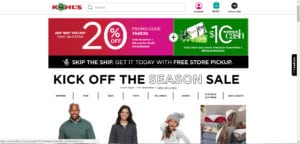 Sears
Sears is offering a "Holiday Blowout" promotion on everything in store through Nov. 25, among other promotions, running from 10% to 50% off with curbside store pickup. The struggling retailer has been forced to close stores this year and file for bankruptcy, so the holiday season is a crucial one.
Old Navy
Old Navy isn't promoting the holiday exactly, calling it the winter season. Its promotion has various styles on sale for $5 and up.
BirchBox
Birchbox is conducting a "Pick Your Freebie" promotion at various price points. The subscription seller is also launching its Countdown to Beauty limited edition box in its holiday shop.
Target
Target is offering free shipping and returns through Dec. 23 along with other promotions. In its promotional email Target is offering "Kids Daily Deals" of up to 50% off in store only with its Cartwheel loyalty app.
Pottery Barn
Pottery Barn is offering a "Mega Sale" with free shipping on orders and up to 70% off hundreds of items. It also offers lifestyle content such as holiday brunch tips and essentials.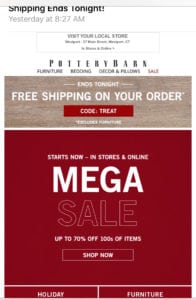 Best Buy
Best Buy is offering free shipping all season long, running from Oct. 29 through Dec. 25.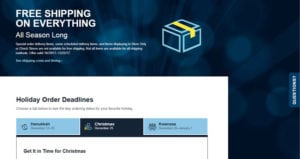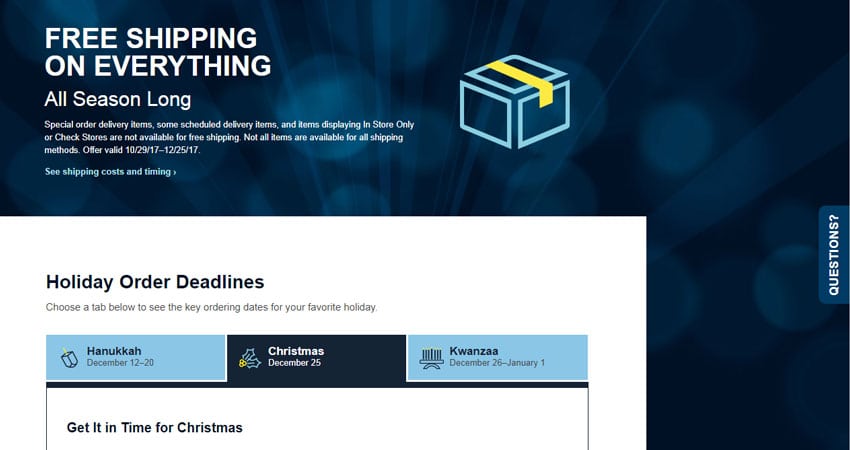 Costco
Costco is offering early holiday savings on kitchen and home appliances and computers. There are also member-only savings through Nov. 22.
Dick's Sporting Goods
The sporting goods mega-retailer is offering items up to 50% off, along with other featured deals. There are is also an additional 40% off on select clearance items and price matching guarantees.