Driven by a pandemic-fueled lack of travel and more disposable income, the China luxury goods market is projected to show 48% growth in 2020, doubling the country's overall share of the market, according to a recent report from Bain & Company in conjunction with Tmall's luxury division.
This is significantly ahead of last year's gain, which was 26%, Bain reported, and the upward trend is expected to give China a leading share of 45% of the global luxury market by 2025, outpacing Europe and North America.
Prior to COVID-19 lockdowns, many wealthy Chinese often bought luxury goods from those desirable markets, including purchases from professional agents who purchased and then resold them to clients.
Even as the global luxury market decreased 23% in 2020, Bain reported, China's share nearly doubled year-over-year, from 11% to 20%.
There has been a trend of so-called repatriation of luxury spending since 2015, driven by a reduction in import duties, stricter control over counterfeit and "gray" markets and more harmonized pricing, Bain reported.
"With the addition of COVID-19-related travel restrictions, mainland China's portion of Chinese global luxury purchases this year reached a peak of about 70% to 75%," the report stated. "However, we expect that share to subside over the next five years as global conditions normalize."
Other growth factors for the China luxury goods market cited by Bain included the boom in millennial and Gen Z shopping, widespread digitalization and the popularity of duty-free shops on the island of Hainan.
eMarketer said in June that China, long an ecommerce powerhouse and the number one market, would surpass the U.S. in total retail sales for 2020 at $5.072 trillion, even as its retail market shrunk by 4%, less than the U.S. drop (see chart).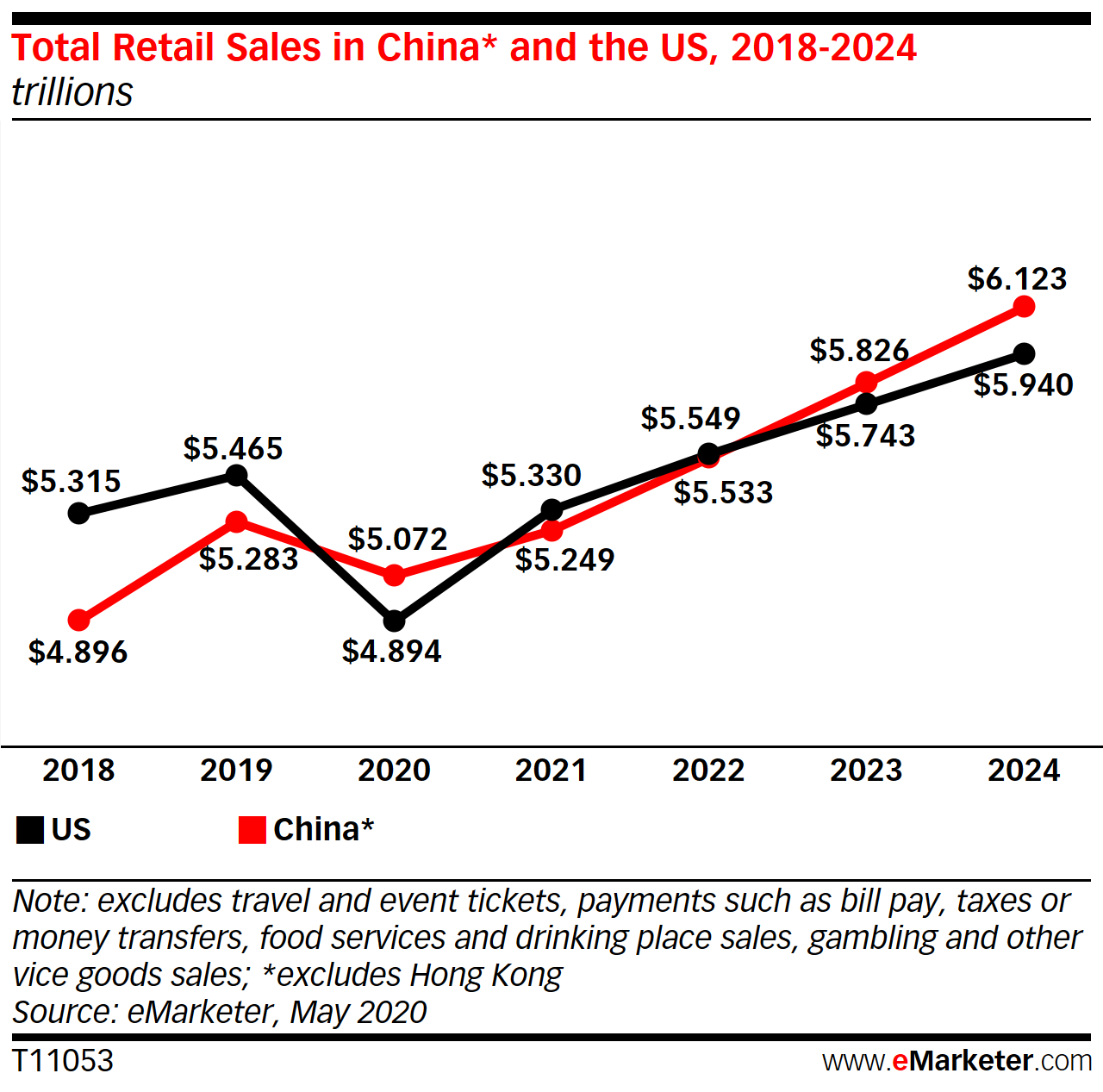 Combined, the troika of Alibaba, JD.com and Pinduoduo represented a commanding 83.6% of the Chinese ecommerce market in 2020, up from 80.3% in 2019, according to eMarketer, driven by diversified product offerings and their logistical strength compared to smaller players.
Last year, Alibaba made a move to attract SMB merchants from other countries to its fast-growing AliExpress marketplace, a direct challenge to Amazon's international marketplace. This followed Amazon's shuttering of its Chinese marketplace, switching its focus to offering products from cross-border merchants instead of those in mainland China.