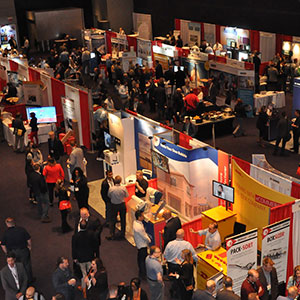 The other day I was talking with a friend who has been in multichannel marketing for over 25 years. The conversation turned to how internet technology keeps accelerating business change. New products and service competitors can be launched almost overnight.
Businesses slow to adapt to change get destroyed. The latest victim is Payless Shoes planning to liquidate it 2,100 company-owned and online stores in the U.S. and Puerto Rico. There are just as many potential threats to ecommerce businesses, some overlapping: Rapidly rising shipping costs coupled with the urgency to deliver orders fast; and low unemployment along with increased labor costs are two that leap to mind.
With this speed of change, how forward looking are your operations and fulfillment strategies? How can you be sure you're evaluating and implementing the right ones? We feel Ecommerce Operations Summit 2019, April 9-11 in Columbus, OH, is an excellent way to evaluate emerging trends and improve your fulfillment operations.
We combed through the conference agenda for Ecommerce Operations Summit and highlighted some of the topics we found interesting or beneficial or both, and why:
How Sustainable Are Rising Shipping Costs?
Every year shipping costs continue to rise, fed by carrier GRIs and accessorial fees. Now the U.S. Parcel Service is increasing rates as well and expanding DIM pricing. Merchants, especially SMBs, are caught in the crosshairs and having a hard time keeping up. Are carriers risking damage to their own future market by causing some players to drop out of the game? How sustainable is this cost curve, and what can be done to address it?
An expert panel including Rob Martinez, CEO and Co-Founder, Shipware LLC, Gerald Hempstead, Principal, Hempstead Consulting, Nate Skiver, Senior Manager, Parcel Network Design at Gap Inc. and Sara Negri, Transportation Manager, Parcel and Ecommerce at GNC, will look at the issues, the outlook and what's being done.
Our opinion: This is a must-hear topic at Ecommerce Operations Summit. Escalating shipping costs threatens every business, especially SMBs that can't compete with lower shipping costs from Amazon and other large competitors. Freight costs in many ecommerce businesses are higher than the total of all other fulfillment costs combined.
Improving Store Inventory with Carrots and Sticks
Stores are often seen as the weak link when it comes to overall inventory accuracy relative to distribution and fulfillment centers. But retailers are relying on them more every day to fulfill orders either for store pickup, shipping to another store or directly to a customer. So how do you ensure greater store inventory accuracy? This panel will discuss "carrot and stick" approaches being used to incent performance by alternately rewarding locations that hit the mark or limiting SKU availability to those that don't.
This session will be led by Steve, DeNunzio, Director of the Master of Business Logistics Engineering (MBLE) at Ohio State University, joined by Steve Reade, Director of Distribution at DSW and Jonathan Aitken, Director of Digital and RFID Partnerships at Avery Dennison Corporation.
Speeding Up Urban Fulfillment: Exploring Same-Day, Next-Day and Two-Day Options
Eighty-eight percent of consumers are willing to pay for same-day delivery, according to PwC. Not every business needs or can pay for multi-location and same-minute delivery. Customer expectations, inventory investment and availability, competition, delivery options and costs are major factors. The panel promises to step back from the hype, relate their experiences and to identify the practical realities of what to do in response. David Hauptman, SVP of Strategic Management for GEODIS and David Strobelt, SVP and Chief Information and Supply Chain Officer for Modell's Sporting Goods, will dive into this important subject.
Try Before You Buy: Great Opportunity or Returns Tsunami Risk?
More and more brands like ASOS, Amazon, Stitch Fix and Trunk Club are catering to shopper's tendencies by offering Try Before You Buy (TBYB), where many items go out and most come back. Does this represent a fantastic sales opportunity or a hellish returns scenario? Justin Press, General Manager, North America and VP of Customer Success, Brightpearl, Lalan Shrikam, Founder and Owner of Malabar Bay and David Sobie, Co-Founder and CEO, Happy Returns, will unpack this trend at depth during Ecommerce Operations Summit.
Our opinion: It's interesting how some old ideas come back around, reinvented. Many retailers and ecommerce companies adopted and discarded no-quibble return policies because returns were too high. It will be interesting to hear. Who pays for shipping? How resaleable are items? Don't miss this one.
To FBA or Not to FBA: That is the Question
Many ecommerce companies started with Fulfillment By Amazon because it was easy, integrated with Amazon's marketplace and offered great shipping rates and speed. But with the cost of FBA rising and restrictions tightening, some are searching for better service, greater freedom and a more cost-effective solution. This panel will examine arguments for and against FBA, the costs involved with leaving and the benefits of alternative solutions such as a 3PL.
Jason Aymerich, President of Complemar will lead this discussion, joined by Peter Marlenga, Director of Operations for Tech Armor and Darren Lane, B2B Ecommerce and Export Sales Manager, Motor State Distributing.
Our opinion: This promises to be a lively strategic debate. Amazon sees all your product sales and vendors, then introduces competitors at lower retail cost than yours. Plus, you don't have use of the customer names in your business either. Come and hear what others think.
Balancing Packaging Sustainability, Protection, Loyalty and the Bottom Line
There is heightened consumer interest in the environment and it's important to balance this with the need to reduce costs by shrinking packaging size and shipping less air. It's important to assess current and emerging technologies. These speakers intend to look at the trends, drivers and solutions to product protection, branding and customer experience, sustainability and profitability. Hanko Kiessner, Founder and CEO, Packsize International and Jamie Markland, Associate Director of Operations, Boll & Branch, will talk about the ins and outs of the sustainability trend, and the challenges and opportunities it presents.
Our opinion: This is an important topic given consumer environmental interest, packing supply and shipping costs.
Don't delay – register now! Rates for Ecommerce Operations Summit increase on March 1. Bring your entire fulfillment team – it's an excellent way to validate your strategy for the future.