You will want to generate engagements with your content strategy. This is why you will want to know some lucrative content strategies. Making your information stand out from the rest is extremely important.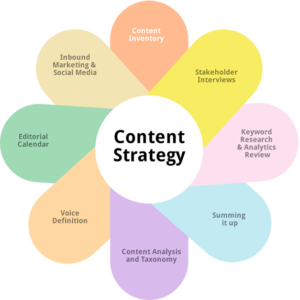 What Is Content Strategy?
It is the way that you put together your information on your website in order to be pulled up in the search engines fast when people are searching online. People all over the world look up companies, products and services that they are interested in. You want your company to be the first one that they look at because this can generate sales. Sales is the reason you are in business, and anything that can help you to do more of it should be looked into right away. Make sure that you have a great online impact, and you will be well on your way to making greater profits.
How Can You Make Sure That You Have a Lucrative Content Strategy?
When you are establishing your website, you want to attract the customers that will produce your sales. This what you want to see – a lot of profits. Here are ways that you can generate great content strategies:
Clear And Concise – Your website needs to be clear and concise. It should not be too long that you lose the attention of your readers. Some people will get bored with too much information. Just put in as much as is needed and place it throughout the website so that the reader will not want to leave it.
Professional Photographs – Make sure that any photographs that you use are good ones. If you are not good at taking pictures, you will want to hire a professional. Professional photographers will get you the pictures that you need of your products and company. They will be able to get the proper lighting and setup. Utilize them in order to attract more customers. It will pay off in the long run.
Current Information – You want all the information on your website to be current. That includes your contact information. Always be sure that the name, address and phone number are readable. You will want to include your phone number, email address and fax number too. If you have news about your company, this should be posted to your website. Make sure that there is a date on the information so that your readers will know that it is new. Also, update any product information that you have. Sales and promotions should also be included on your website so that you can entice your customers to buy more. Consider offering free delivery if customer purchases so much of your products or services. Coupons are also an excellent way to drum up even more sales.
Links – You should have links to pertinent information in your website. Also, you will want to include a way for a customer to get back to your site. This should be clear to the customer so that they are not confused about what they should do. Make sure that these links work properly. If they do not work properly, be sure to fix them. Have a friend or family member check your website over to be sure that all the links are working properly.
No Errors – You should make sure that the information that you have on your website is without errors. Check and double check your website and be sure to make the necessary corrections. Correct any information that is not current or is wrong right away as soon as it is brought to your attention.
Good Newsletter and Blogs – Have a good and interesting newsletter on your website. Make sure that you make it easy for other people to sign up for it. Do not charge for your newsletter. Be sure that it goes out on a regular basis. If you are opting for a blog section, make sure it is related to your services and products. Take an example of Scottish Pacific's blogs where being an industry financing solution providers the give informative reads like cash flow management Get inspired by their writing pattern and layout to build your own.
Comments And Suggestions – Have a section on your website that allows your customers to leave their feedback. They may offer some really good comments and suggestions. Since they can also be a great way for you to be recommended to other people, allow your customers to give you some free advertising. This can lead to a lot of sales.
Your website is the key to your success online. Making sure that it is the best possible is what you want to do. Be sure to use the strategies above to generate lots of interest in your website. When this happens, it will move up in the search engines, and you will be able to get the customers and sales that you want. Your future will look great when you utilize the Internet to your advantage. Doing so will give you a greater impact than your competitors. You will be the one that people will come to for your services and products.
Helen Cartwright is a freelance blogger