Walmart is offering half off on new sign-ups to its $98-a-year Walmart+ subscription program, an offer which expires today, in a bid to boost membership ahead of Cyber Weekend and the rush to the conclusion of the peak holiday season.
The giant retailer is also throwing in access to early Black Friday deals starting Nov. 7, as retailers continue to entice consumers way ahead of the traditional kickoff of the home stretch on Thanksgiving Day.
The Walmart+ deal comes a couple weeks after Amazon offered a discounted version of its dominant Prime program for lower-income consumers.
"We are offering half off the Walmart+ membership now so that as many customers as possible can take advantage of early access to the hottest holiday deals this season," said Chris Cracchiolo, senior vice president and general manager of Walmart+ in a blog post. "This is the perfect time to sign up as customers save big on the membership and on hundreds of holiday items. Plus, signing up also includes access to the full suite of benefits for an entire year."
Walmart's promotional efforts seem to be paying off, according to Morgan Stanely analyst Simeon Gutman, as reported by Seeking Alpha. The firm estimates Walmart+ added nearly 2 million members since September, the largest gain since August 2021, pegging current plus likely subscribers at 27 million.
The recent addition of Paramount Plus to a Walmart+ subscription is a key membership driver, Morgan Stanley reported, cited by more than a quarter of survey respondents.
Michael Levin, a partner and co-founder of Consumer Intelligence Research Partners, called the Walmart+ promotion "straightforward yet likely effective."
"We've seen members of Walmart+ and Amazon Prime who subscribe for a month or two around the holidays, so for just a little more money, they get someone for a whole year," Levin said. "That latter point is important, because they have more chances to expose a member to the range of benefits, and thus give them more reason to renew the membership."
The growth in Walmart+ comes as membership in Amazon's much larger Prime program appears to be leveling off after years of massive growth, according to data from CIRP. The firm has been tracking Prime membership since 2013.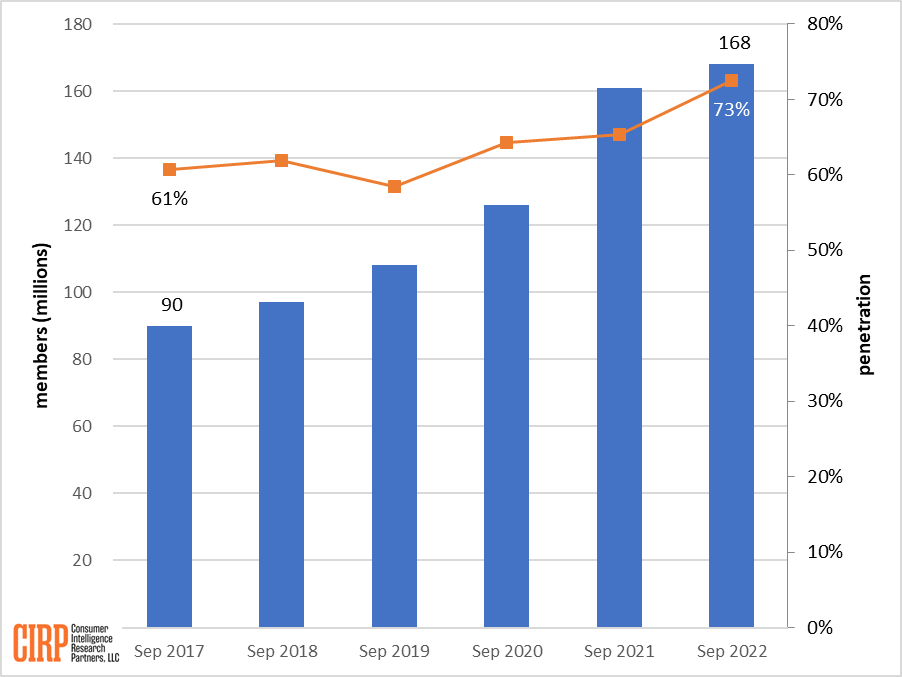 CIRP estimates there are 168 million people using Amazon Prime in the U.S. as of September, up 5% from 160 million a year ago but flat over the past few quarters. This figure is distinct from households with Prime membership.
"Perhaps the Amazon folks learned from their Washington state neighbors at Costco, leaning into the power of making customers pay to shop, so they have an economic commitment to becoming dedicated shoppers," CIRP said in its analysis of the power of Prime. "It worked."
Amazon Prime members account for more than 70% of the company's U.S. sales, CIRP estimates, up from 60% in 2017 and 40% a decade ago.