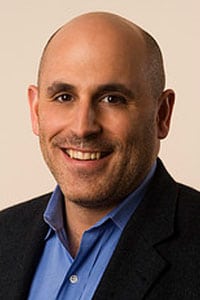 Marc Lore, Walmart's head of ecommerce for the U.S., talked about the company's testing of in-home grocery delivery during a keynote presentation at Shop.org, the latest in a string of disruptive moves by the big-box giant as it battles head-to-head with Amazon.
"We actually have 100 volunteers [for the test]," Lore said. "We had 10 times more [volunteers] than we originally thought we'd test with. A one-time use key code is entered outside the door, and you can see the person coming into your house from your phone, putting the stuff into the fridge and leaving."
Lore said he's heard people saying this idea is crazy, and that they wouldn't let anyone come into their home. But, he added, the same concerns were raised about AirBNB, and now hundreds of thousands of property owners rent out their homes, apartments and condos worldwide to total strangers.
"We're in the early days [of in-home delivery], but I think it's the future," said Lore.
When asked whether he worried about the liability, Lore said that being able to see every movement the delivery person is making until they leave the property minimizes the concern.
As if this weren't enough, Lore said at a separate advertising event in New York this week that Walmart plans to begin offering free same-day delivery in the New York metro area, news which apparently took some at the company by surprise. The service is already offered there by Walmart unit Jet.com, which Lore founded. Earlier this year, Walmart began offering free two-day delivery on orders of at least $35, another shot at Amazon.
This is just one of many moves Walmart has announced since Lore took over its ecommerce operations when Jet.com was acquired in 2016. Since then the company has moved full-steam ahead on a number of strategic ecommerce acquisitions (Modcloth, Bonobos, ShoeBuy and Moosejaw).
Under Lore Walmart has also made disruptive moves like offering free two-day shipping as a counter to Amazon Prime, creating a Silicon Valley incubator called Store No. 8 and providing discounts for in-store pickup of online orders. Walmart also announced this week that it would start same-day delivery for orders in the New York City area.